Argentine Food
An attitude both serious and entertaining
"If you reject the food, ignore the customs, fear the religion and avoid the people, you might better stay home."
James Michener (1907 - 1997)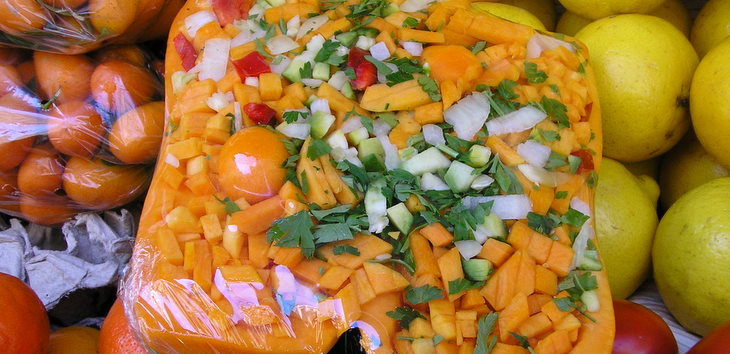 Argentina is a land of fresh full-flavored food that rarely comes out of a frozen food case in a mega-supermarket. As a matter of fact, few supermarkets on the size of ones in North America are found anywhere - although in the city of San Jan one has an amusement park inside. Most grocery stores are the size of North American convenience stores.
You go to a butcher for red meat, and separate markets for poultry and fish/seafood. Produce markets abound and bakeries with exquisite pastries are on every block. Delis for terrific cooked meats, cheeses, and prepared salads, sandwiches of all types, breads, wines and beer are "just around the corner." Large indoor markets are in all major cities offering everything from whole pigs to flowers. The Mercado de San Telmo in Buenos Aires and Tucuman's vast Mercado del Norte provide everything from artichokes to fresh goat. El Bolson and Los Antiguos in the Patagonian Andes are produce and fruit centers set in lush microclimates.


(fresh grass fed beef being delivered to market)


As is many cultures, cooking at home is considered a women's work, except for the outdoor grill, and Argentina is no exception. Since parilla - the grilling of meat, fish and seafood over fresh wood charcoal - is a major cooking method, Argentine men get a lot of experience. On Sundays, holidays and events, whether in a city or in the countryside, the extended family traditionally gathers for a parilla in the afternoon, and the smell of fresh wood with grilling food pervades the air.


Argentina is justifiably known as a country where it's hard to get a bad meal in a restaurant (note: I'm not saying it is always a great meal). Compared to the USA and Europe, dining out in Argentina is moderately priced. Lunch or dinner for two in a first class restaurant, with a bottle of wine average less than AR$200 (US$40.00). Spending more would simply mean over-eating since portions are large. A light meal for two – sandwich, soup and/or salad, beverage - runs about AR$60 (US$11.00).
Argentines have a more eclectic taste than Americans – to say the least. Not only do the average menus have a large selection of terrific wood-grilled beef, pork, lamb and fish, but kidneys, brain, sausages of all types and sweetbreads are common as well as goat, llama, rabbit, and excellent hand made pastas. Argentines believe in using all the animal from the "nose to the tail."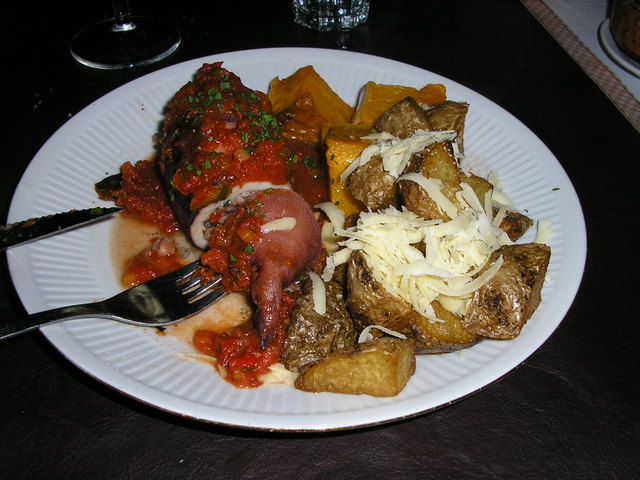 (stuffed whole calamari)



Yet because of the variety of nationalities that emigrated to Argentina, traditional comfort foods are easily available. In Barrio Belgrano, with its sizable Jewish population, Big Gourmet Deli, Calle Juramento 2200, serves a great corned beef on rye.



Unfortunately, despite the availability of a wide range of produce in most parts of the country, restaurants make short-shrift of vegetable selections on the menu and Argentines do not seem to mind. Vegetarian restaurants are short-lived and vegetarian options on menus are scarce. A new generation of chefs seem to be recognizing this anomaly.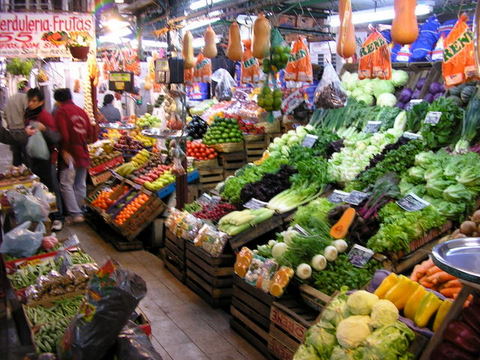 Yet McDonald's and Burger King are making inroads, especially in the major cities. In a nation of spectacular local beef, where you can get a freshly ground burger with real cheese, tomato, onions and made-to-order fried potatoes for less than US$4.00 why would anyone buy a Big Mac for nearly US$10.00? But the fast food outlets in the large cities are growing in popularity.
What is Argentine cuisine?
Argentine's national cuisine is basically a fusion of Spanish, Indigenous and Italian traditions. Like so many cuisines with a large list of "comfort foods," innovation has been slow in developing. But in the past decade, the increasing number of fine culinary colleges in major urban centers are graduating a new generation of under-30-year-old-chefs who are creating innovative fusions using the nation's excellent products.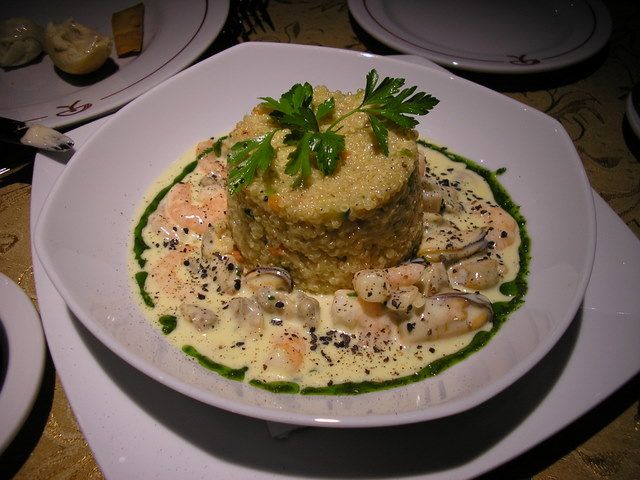 (Quinoa timbale with seafood in a white wine béchamel)



The chefs are not just in Buenos Aires. These pioneers of an Argentine culinary renaissance are found in Ushuaia, El Bolson, Salta, Tilcara, Rosario and Cafayate to name just a few.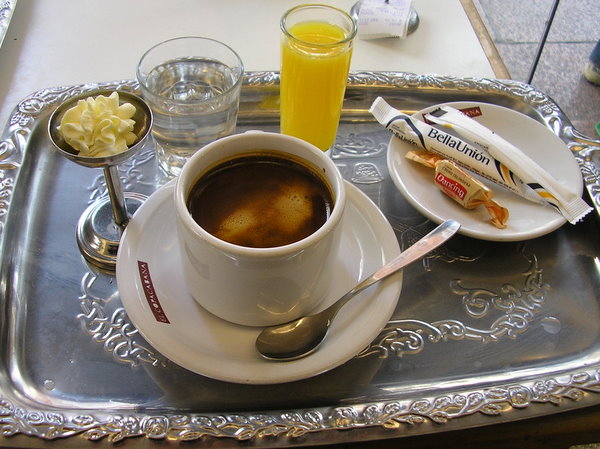 The daily routine
The average Argentine, like their Mediterranean cousins, love coffee and cafes are numerous providing not only beverages and light meals but restful social interaction from 7:00 a.m. to 10:00 p.m.
Dining follows a European pattern. Breakfast is light - coffee, tea or mate, medalunes (a sweet croissant-like pastry) or toast, perhaps a little cheese and maybe some slices of ham or sausage.
In hotels and B & B's the breakfast may range from this small fare to elaborate buffets with a variety of breads, cheeses, meats, eggs, fresh fruit, nuts, yogurts and pastries - breakfast is nearly always included in the room rate throughout Argentina.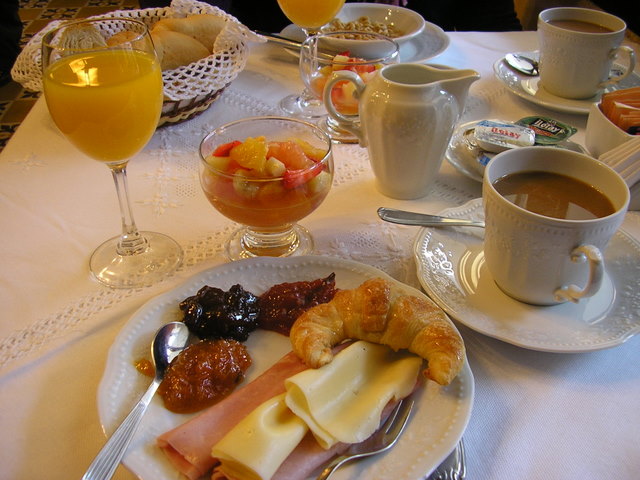 Lunch is anytime between 12:00 and 3:00 p.m. If eating in a restaurant, allow at least one and a half hours. Lunch is often the largest meal of the day especially if dinner will be at home. Most restaurants, not cafes, close at 3:00 p.m. to prep for dinner.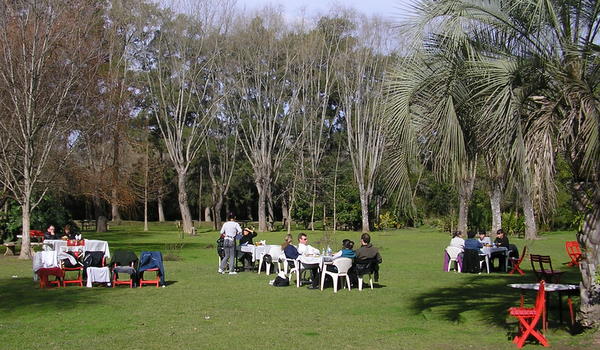 Restaurants re-open for dinner around 9:00 p.m. But, unless you want to glaringly advertise yourself as a tourist, do not arrive before 10:00 p.m. (11:00 p.m. is better.) Kitchens usually serve until 1:00 AM.
If you still have energy, and many Argentines definitely do, you then go to the clubs for dancing - tango especially. Clubs open around midnight and close by 7:00 a.m. Argentines will still arrive at work by 9:00 am - maybe 10:00…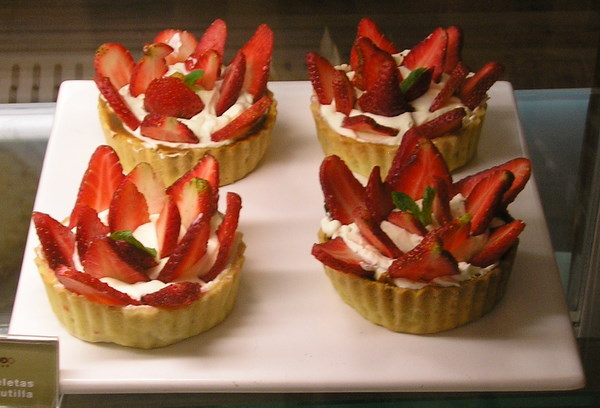 Argentina is infected with the "French paradox." Portions in most restaurants and cafes are generous with lots of protean, carbohydrates, salads - dressed in Argentina's own olive oil and balsamic vinegar - pastries, fruits, as well as their terrific wines and beers (although at lunch the common beverage is Coke or Sprite). Yet obesity is virtually unknown.
A drawback for the average traveler is having to rely on guidebooks for restaurant recommendations. The issue is compounded if the stay is brief - a few days or less. A general guide has to consider a wide variety of tastes and budgets in making its recommendations. Although well intentioned, the writer may not understand the mercurial nature of the restaurant industry. What was a stunning culinary find last year may have lost the chef or owner that inspired such praise.
Studying the posted menu, eating first with your eyes and recommendations by locals - not necessarily the hotel that may be receiving a commission - can greatly enhance the probability for a memorable dining experience.
Travel with Pen and Palate's restaurant guide offers its own picks from Buenos Aires to Tierra del Fuego.