Salta the Beautiful
24°S / 65°W Population:500,000 elevation: 3798'
Salta is a low rise city of 500,000 residents that was ignored during the consolidation of Argentina after the Wars of Independence and the civil wars that followed in the nineteenth century. Fortunately, this means that Salta remains the most architecturally significant city from the Spanish colonial era in Argentina. Its colonial commercial and residential architecture has undergone a restoration boom the past several decades greatly encouraging its reputation as a winter tourist destination.
Founded in 1582, Salta is one of the oldest settlements in what was then the Viceroyalty of Peru - the silver treasure chest of the Spanish Empire. It was an important trade link between Cordoba and the capital at Lima, providing valuable goods for the mines of the Bolivian Altiplano. Today it is the provincial capital of its namesake province in Argentina's far Andean northwest about 200 miles from both the border with Chile to the west and Bolivia to the north.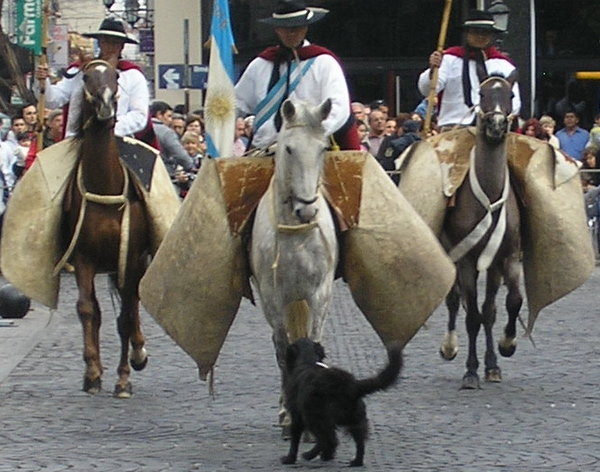 Salta has a dry, subtropical climate most of the year except in summer – January through March - when nearly all its annual rainfall pours down the mountains in windy storms. These life giving rains nourish the land but makes tourist travel nearly impossible. The winter months of July through September are ideal. Daytime temperature is in the mid 60´s to upper 70´s and everything is in bloom, from bougainvillea to cactus to palms to flowering trees that I've never seen before. Sitting 3800 feet about sea level, the city is immediately surrounded, literally in a circle, by the foothills of the Andes that range another couple thousand feet in altitude.
The city is prosperous. Like many in Europe, Argentina's cities are generally populated by the middle and upper classes. Salta's suburbs contain a variety of light industries and companies involved with Andean mining. Tobacco farming, and sugarcane to a lesser extent, has been and still remain agricultural profit makers. Many communities surrounding Salta are populated by the workers for these industries, often migrants from poor Andean and Bolivian mountain villages. Pockets of poverty are evident in the outskirts of the city. For the average tourist, this provides no more of a concern than visual blandness. But in the centre of Salta, during the day, the poor, especially children, sell inexpensive goods on the street. They offer genuine services such as shoe shines and are not trying to "shake" anyone down.
The Teleferico, a Swiss made cable car (AR$20 (US$5.25 r/t) climbs San Bernardo Mountain, 1,500 feet above Salta, The cable car station is a brief walk from Plaza 9 de Julio and a very popular excursion. It's particularly enjoyable late in the afternoon to see the sunset and Salta light up below. The city created a beautiful park at the summit with a multi level landscaped waterfall, and civic museum. You can enjoy the panoramic views from a decent café.



On a random walk we heard orchestral music coming from a very old building and discovered a community orchestra, founded by a committed Salta musician, Senora Kelley, which was made up of 6 to 12 year-old children. Very near the conductor it was apparent that at least a dozen students were physically challenged. The music was beautiful. We talked to very enthusiastic parents who told us that the teenage orchestra would be practicing in a public school that afternoon. We went to the practice and were taken with their rehearsal of Dvorak´s New World Symphony. We talked for quite awhile to one parent and discovered that there was no government or foundation funding and little music and art education in the public schools - an all too familiar refrain for concerned parents anywhere in the Western Hemisphere. Senora Kelley raises money through private donations to purchase instruments for students who can't afford their own, to rent rehearsal space every Saturday and fund their frequent free public concerts. We met with Senora Kelley and were pleased that we could express our awe for her work with a cash donation.
At street level, in the evening, your eyes are entertained by theatrically lit buildings such as the Cathedral, the intricately decorated Igelesia San Francisco, the Cabildo (old city hall) and the Provincial Legislature. The lighting is not simply accomplished by floods but meticulously designed to take advantage of paint color, alcoves, columns, intricate textures and carvings.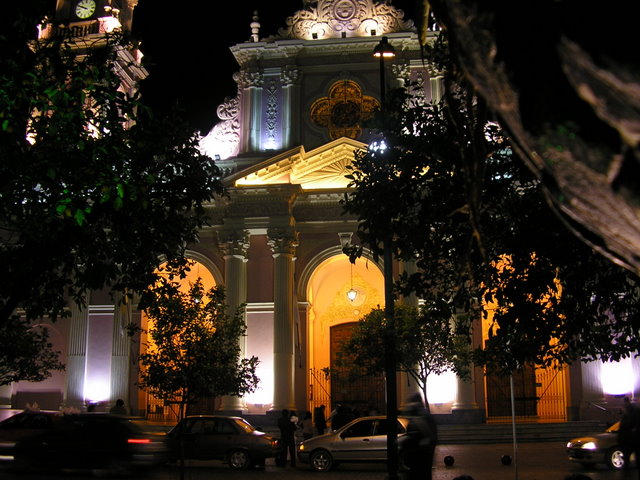 Accommodations, restaurants and museums abound and are easy to reach in this compact, walkable city. La Candela and Hotel del Antiquo Convento are in beautiful restored buildings. Hostal Los Cardones is one of many budget hostels in the city.
Recommended restaurants include Palador Negra, Jose Balcarce, La Lantina, Darrical and La Monumental.
The many museums are varied and well worth a visitor's time. The exquisite house museum Museo Folclorico Parijito Velarde, the Museo de Anthropologia y Arqueologia de Alta Montana, The Cabildo, the Museo Anthpopgico Juan Martin Leguizamon and the outstanding, Museo de Arte Etnico Americano Pajcha.
Salta is a city obviously loved by its citizens for they awarded it its well-deserved moniker Salta the Beautiful.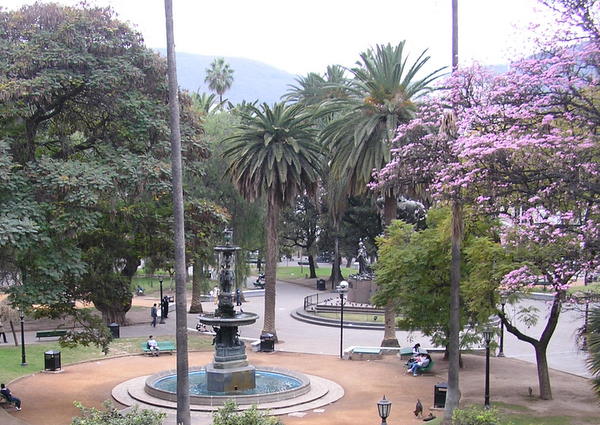 (Plaza 9 de Julio in winter)





You can view a map of Salta province at: maps of Argentine provinces