Salta's Restaurants
High Andean Cuisine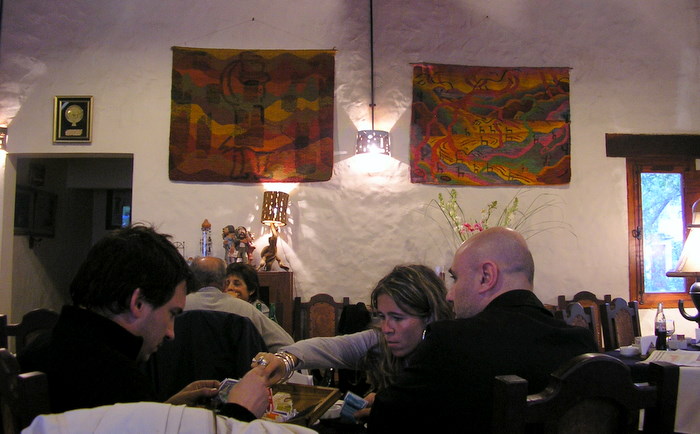 (tea house in San Lorenzo)



Highly Recommended:
Restaurant Darrical , Almeria Hotel, Vicente López 146.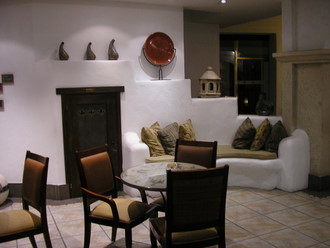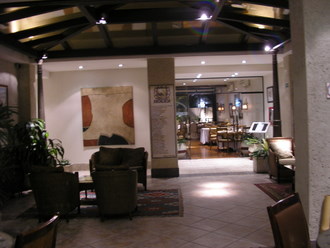 (lobby of Hotel Almeria)


Chef Rita Blanquez is a 24 year-old graduate of Salta's Escuela Superior de Gastrnamia, which operates the much over praised Restaurant Jose Balcarce. If you want to understand the level of Culinary education provided in Salta dine at Restaurant Darrical.
Located within the Almeria Hotel, one of Salta's growing number of luxe boutique hotels (double room AR$341 - US$91.00). The dining room is comfortable, relaxed as well as elegant with soft music, a glass wall looking out on a narrow, artistically lit, tropical garden and water feature. The tables are generous in size with soft, crisp white linen.
The menu surpasses the atmosphere. We noticed that the first courses were generously proportioned. We ordered one to share, A timbale of Quinoa with diced vegetables surrounded by a cream sauce tasting of white wine chock full of tender seafood - shrimp, mussels and scallops. For one person it would have been an entrée! The quinoa, an ancient Andean grain, was tender but had just enough body to compliment the creamy seafood. My wife's entrée was Bondiola in a rich red wine demi-glace accompanied by a timbale of Andean sweet potatoes. Bondiola is lowly pork shoulder, but under Chef Blanquez hand it's raised to gourmet heights with slow cooking and the excellent sauce. My entrée was grilled boneless chicken breasts smothered with a wine sauce with large plump cherries. Argentina is known for it's deep red cherries. The sauce was rich but not too sweet. The sides were a creamy fresh corn pudding and some green beans with cashews.
Normally we do not order dessert. After a satisfying meal, I am usually too full for something sweet, but the wait person, hearing our satisfaction with the meal, insisted we try a special dish. Hechizo Andaluz - tiny baby green eggplants - the size of jumbo olives - stewed in a sugar syrup allowed to caramel. The egg plants are stuffed with pistachios, arranged on almond ice cream with a drizzle of the warm sugar sauce. The eggplants were crunchy and the entire mouth feel of the warm sauce and cold almond ice cream was amazing.
The wine list was very good and moderately priced . A favorite bodega, Latitude 33, had a smooth, full bodied Syrah that complimented the rich meat dishes.
The presentations of each dish and the professionalism of the staff was exemplary. I would expect to pay much more in Buenos Aires, but at Restaurant Darrical our dinner for two, including wine and bottled water came to AR$132 (US$35.00).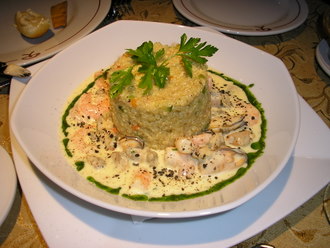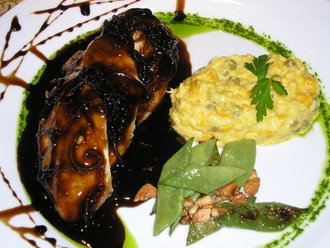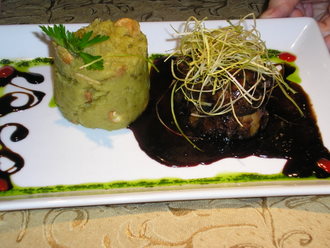 (left: chicken in cherry sauce, right: Bandeola)



Palador Negra, Pueyrredon 350
We arrived at Hotel La Candela at 11:00 PM, on a weekday night, hungry and were directed to the restaurant right next door. Naturally nearly every table was full since it was only 11:00 PM. It's run by a husband and wife team - with the wife as the Chef. They and their staff are outgoing and warmly greeted customers that were obvious regulars. It is one of the country's many Italian restaurants with superb homemade pastas and ravioli of all types. You choose from a dozen types of pasta and sauces. That's where the true Argentine influence comes in, with sauces of complex flavorings - combinations of spices, peppers, basil, cilantro, oregano, coco leaves, walnuts, anchovies, squid ink, meats and seafood.
You can buy their exquisite cheeses, cured meats and sausages to take home or create your own antipasto to have with lunch or dinner. Their salads are simple, fresh and crisp. Dinner with a bottle of wine, for two, never exceeded AR$133 (US$35). We returned several times and they remembered we were from Philadelphia and quite proud that a fellow chef was returning.





Recommended:
Restaurant Jose Balcarce, Necochea 590
Restaurant Jose Balcarce, the first class restaurant of Salta's Escuela Superior de Gastrnamia. It's housed in a restored colonial commercial building, with 30 foot ceilings, exposed rock walls, white linen, soft music and candle light, just a block from Salta's night-life scene on Avenida Balcarce.  The Escuela Superior de Gastrnamia enrolls about 250 students in a rigorous two-year program no different than ones in North America or Europe - as an interested Chef, I visited the facilities. Restaurant Jose Balcarce specializes in the region's cuisine known as High Andean - very trendy within the nation at the present. It includes many varieties of Andean seasoned potatoes, grilled goat, rabbit, lamb and llama, as well as the native grain quinoa combined with herbs and even made into bread. I had my first llama – extremely tender – grilled rare – (tasted like veal) and excellent wood smoked trout. A large baked potato sat on a bed of sautéed leaks and was topped with a mild red pepper sauce.
Unfortunately, my wife's dinner was less successful - a bland Patagonian trout cooked from an obvious frozen state, under seasoned and boringly presented. Dinner for two with a disappointing bottle of local Salta red wine was AR$190 (US$50)



La Lentina, Ave. Belcarce
Avenida Belcarce is the restaurant and club row of Salta and is jammed on weekend and summer nights. But its restaurants are relaxed at lunch time. We had fragrant grilled meat at La Latina, a popular Belcarce choice. Jill's mini steak (a good 8oz) had been marinated in milk and spices before grilling, and I had the most incredible grilled sweetbreads ever - so tender they melted in my mouth and the smoke flavor was intense. All grilling in Argentina is done over fresh wood - no gas, electric, briquettes or commercial charcoal. You actually see the cords of wood in the kitchen. Grilled white cheese topped with smoked ham and oregano was a side dish. Lunch for two with wine was AR$152 (US$40).  



Restaurant La Monumental, Moreno 760, Quebrada de San Lorenzo.
The village suburb of Quebrada de San Lorenzo is a pleasant, easy 30 minute public bus ride outside of Salta. Lush with trees, it is elevated above Salta on the hillside of the surrounding Andes and has been for some time a low-key fashionable bedroom community and summer getaway. The village houses are well spaced apart set in lush gardens with small inns, restaurants and coffee houses. A private botanical garden has nice walking tours.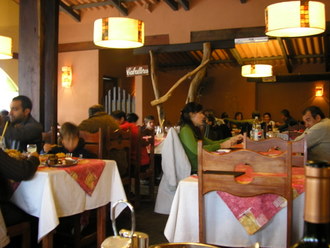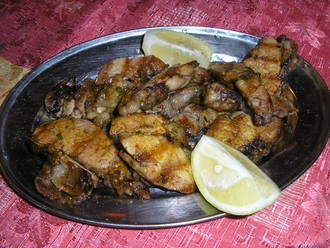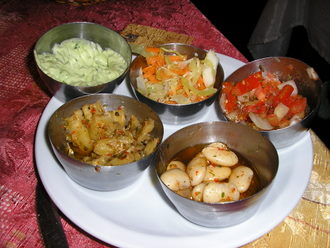 (typical starters with the bread - La Monumental
La Monumental is a popular parilla restaurant, usually filled with locals both at lunch and dinner. Its rustic interior fits the surrounding countryside. My entree of wood grilled Molleja (Sweetbreads) was excellent! Most North Americans think of sweetbreads (pancreas) as odd, to say the least. Believe me, Argentine wood grilled molleja are pillows of beefy flavor with an infusion of wood smoke. I had a link of morcilla as well - Spanish blood pudding - which is another item not liked by North Americans, but when Argentines wood grill this plump succulent sausage it has a crunchy crust with a warm meat pudding texture. My wife's chicken entrée was acceptable but nothing special. Wood grilled chicken is very flavorful, but most customers insist on it being cooked well done and it's tough. I noticed nicely grilled steaks and lamb on other diners' tables.
We were in San Lorenzo on a Sunday. Lunch on Sunday is often the main meal of the day. Our lunch consisted of the entrees, salads, garlic sautéed potatoes and a bottle of Don David Malbec (AR$50 - US$13.00). Don David is a highly respected bodega, but I still believe their wines are inferior to the less costly Latitude 33. Our meal for two came to AR$138 (US$36.80).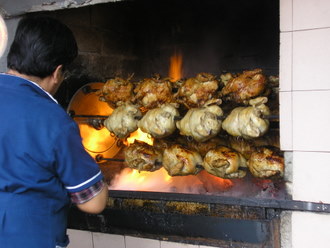 (left: outdoor cafe on Plaza, right: roast chickens for sale)