El Bolson
A Spiritual Vortex
42 S. Lat. / 71.25 E. Long. Pop: 18,000 elev: 960'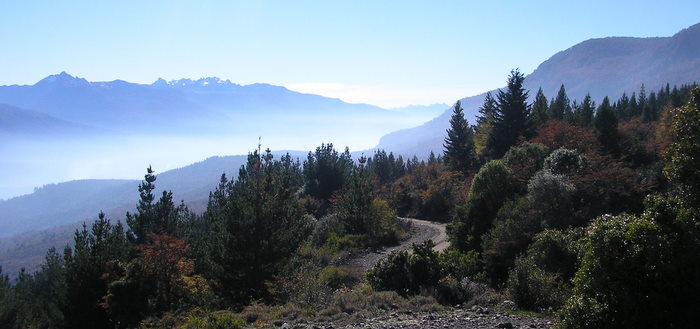 The bus pulls off dusty Ruta 40 and makes its way through the passes of the Andean foothills. A panorama unfolds as you look down on miles of emerald green with meandering rivers and lush forests containing many varieties of both pine and deciduous trees. From Los Antiguos through the Lake District, a narrow lush 700 mile valley, nestled between the foothills and the Andes, is a Shangri la protected from the dry conditions that persist in most of Patagonia.
El Bolson lies in the middle, and its farms produce the finest vegetables, fruits, and mushrooms in Argentina as well as being one of the country's major growers of hops. El Bolson, like much of the Lake District, was settled by German and Swiss immigrants in the 19th century who brought their love of farming, beer and chocolate to this region.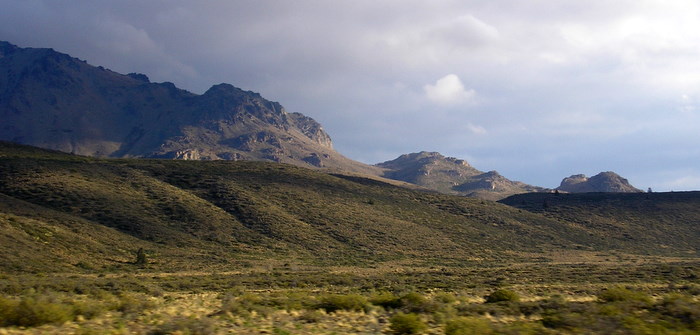 (on Ruta 40)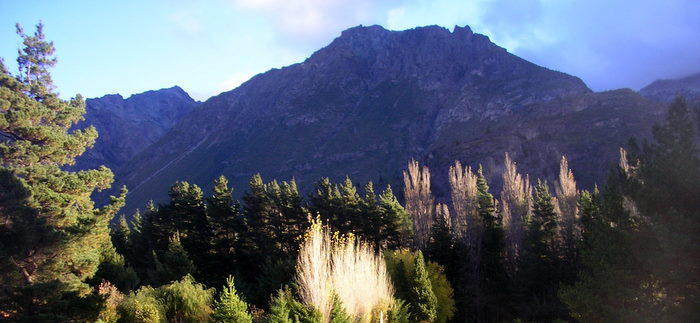 (entering the valley through the foothills)



To add to its natural beauty, people world-wide seeking alternative life-styles began settling in El Bolson during the 1960's. They determined that an energy vortex converged on top of Cerro Piltriquitron.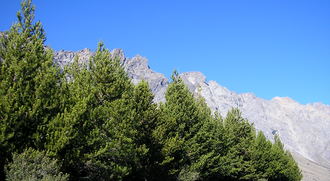 (Cerro Piltriquitron)



The reality that Argentine farming methods are naturally organic and that the glacial water is unpolluted by industry soon put El Bolson on alternative tourist maps. Many of these 1960's immigrants remained and established profitable businesses in farming, hand made high end crafts, furniture, stained glass, trekking supply shops, alternative energy supplies, vegetarian restaurants (rare in meat-loving Argentina), family camp grounds and numerous inns. In the 1970's El Bolson's town council declared the region a nuclear free zone - the first in Argentina.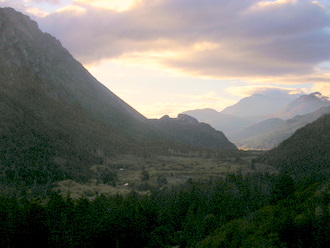 There are many feria artesianals (craft fairs) throughout Argentina. Unfortunately, if you travel in enough towns and cities, the sameness becomes apparent. The carved mate cups, the figurines, the hanging birds, the leather belts - look close enough and you can see the made in China stamp on too many of these so-called crafts.
At the thrice weekly El Bolson Feria Artesanal, south end of Plaza Pagano, 10:00 to 4:00 every Tuesday, Thursday and Saturday, the crafts are top notch with hand made furniture, wooden lamps, carved frames, oil lamps in clear glass with floating flower gardens, glass sculptures and fine leather goods. These crafts are a testament to the hands-on craft counter culture immigrants of the 1960's and 1970's that helped make El Bolson rich.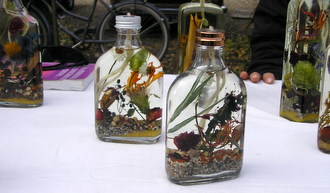 Excellent food stands sell a wide variety of traditional Argentine foods, imaginative vegetarian dishes and sandwiches, artisan cheeses, smoked meats and Patagonian trout and a variety of artisan beers. The eyes get to feast on a rainbow of fresh produce and fruit which this fertile agricultural region grows in abundance with varieties of produce that are difficult to find even in Buenos Aires. The dried, wild mushrooms are a particularly fine local product.
The Feria Artesanal is an event that you should schedule your visit not to miss.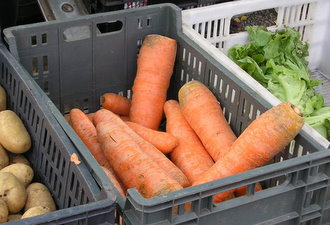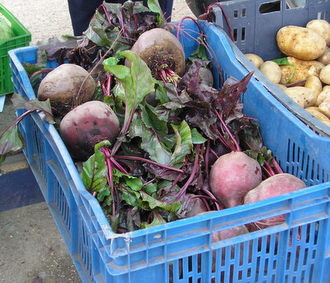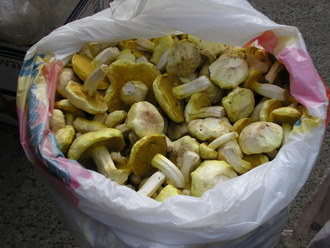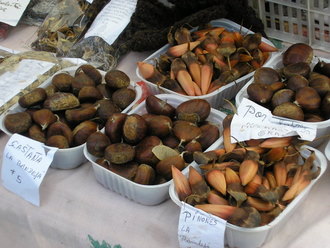 I only stayed two days in El Bolson, not enough to really enjoy its beauty. I did have lunch in Restaurant Jauja , stay in the peaceful mountainside Hostel Altos del Sur and climb the path to the top of Cerro Piltriquitron. Like so many places in Argentina, it will not be my only visit to El Bolson.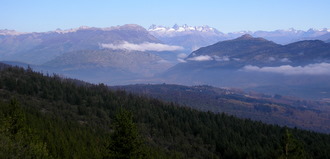 You can locate El Bolson by viewing a map of Rio Negro province at: maps of Argentine provinces