Dining in Ushuaia
It's not all centolla
(Centolla - South Atlantic King Crab)



Highly Recommended
Dulce Fuego, Calle Cabo de Hornos 3815
You will not find Dulce Fuego in any guide book, and if you ask most locals about this three-year-old establishment you may get blank stares. It's so far off the tourist map even the taxi driver had to check where Calle Cabo de Hornos was located. When he did turn onto the dimly lit road he had to look carefully to find the street number. Cabo de Hornos 3815 is a fairly new silver and linga wood trimmed house. In the dark night it gave no indication of being a restaurant. That's because Dulce Fuego really isn't a restaurant. If it was, perhaps it wouldn't be such an extraordinary gastronomic find, no less at el fin del mundo! Loretto, the Posada del Fin del Mundo's night manager, made the reservation but did not prepare me for an experience.
As I entered the brightly painted, yellow/ochre hall I saw one table - that's correct, one - that will seat four people, situated in front of a large window and directly opposite the expansive, spotless, white tile floored, gleaming stainless steel kitchen. Dulce Fuego's young owners, Chef Natalia Perez Miguel, Chef Ruben Amadeo Ceravolo, and his brother Fernando Nestor Ceravolo have created a state of the art catering business, meal delivery service and their own line of preserved gourmet foods. They don't accept reservations for every evening. This being Holy Week, they had a busy catering schedule. Loretto, it turned out, had explained that I was a Chef, and it would just be me for dinner. That's right, I was the only guest - they don't fill the other chairs just because the reservation is for less than four.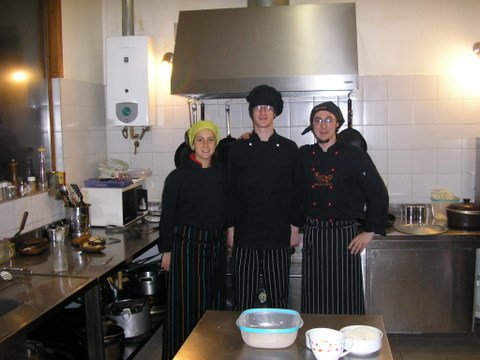 (Chef Natalia Perez Miguel, Fernando Nestor Ceravola and Chef Ruben Amadeo Ceravolo)



Natalia, from Buenos Aires, and Ruben, from Ushuaia, are both classically trained chefs from the best culinary colleges in Argentina. They became fascinated with vacuum sealed food technology which allows a chef to concentrate the ingredients' flavors. Many North Americans are familiar with the bland "boil-in-a-bag" foods available in any frozen food department. But what if you could call a local establishment and order a savory calamari and white wine stew, or slow cooked fork-tender lamb ragout with fresh gnocchi, perhaps fresh linga wood smoked trout or large succulent plump mussels gently cooked with butter, white wine, garlic, onions and fresh salvia. Dulce Fuego will deliver them to your house piping hot with appropriate side dishes. All you have to do is cut open the bag, uncork a fine Argentine wine and set your table with silver and china for an elegant meal - this is no ordinary "boil-in-a-bag." Dulce Fuego's vacuum sealed dishes can be frozen, thawed and reheated in the bag. They are purchased by many trekkers and cruise ships.>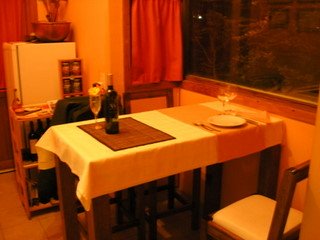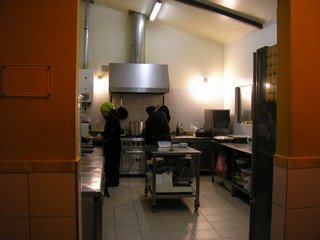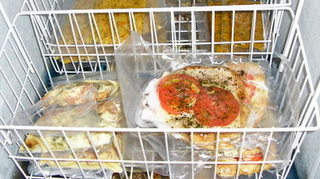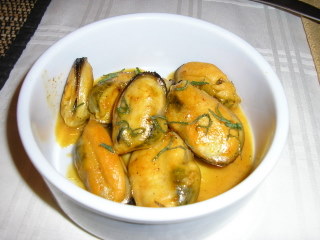 My leisurely three-hour, set menu, dinner featured the freshest foods from Ushuaia's land and sea. Four small canapés arrived arranged in an attractive wooden bowl. A trout pate and a lamb liver pate, sweet with a touch of cognac, topped four small crackers and was a savory introduction, along with a glass of Latitude 33's Sauvignon Blanc.
Next came their Rabbit Comfit with olive oil, olives, a touch of lemon juice and tomato concasse. The rabbit was tender, naturally sweet rather then the gamey taste of wild rabbit.
Following that was a wooden plate with Dulce Fuego's own smoked mussels and small slices of smoked trout - four each, both local. Tierra del Fuego's ubiquitous linga wood is used in their smoker. The aromatic flavor is pronounced but did not overpower the delicate mussels or the trout.
Another mussel dish succeeded the above. This is a signature creation that they also jar, mussels gently cooked with butter, white wine, garlic, onions and fresh salvia. Salvia, grown in their herb garden, is a bit like tarragon but with a fresh spring-like tang, rather then the musty aftertaste tarragon can sometimes bring to seafood.
A fish course arrived. Sautéed fillet of Fuegian Trout simply seasoned with salt and pepper with the skin side nice and crisp. On the edge of the pink trout was a splash of sliced olives, whole blackberries, blueberries and olive oil. The trout rested on half a ball of mashed potatoes stuffed with a mixture of sautéed tomatoes and onions. The ball was lightly breaded and lightly sautéed. A puree of calabaza (orange squash) was topped with a pretty flower. It was the flower of the salvia. Natalia urged me to try it separately. This tiny flower filled my mouth with an intense combination of salvia herb tinged with lavender.
Not knowing the details of the set menu, I was satisfied with that entrée. I thought too fast. The meat course followed. Lamb and red wine ragout topping sweet potato gnocchi garnished with toasted sunflower seeds. The Lamb Ragout is a testament that technology can improve cuisine. They sear the lamb and deglaze the pan with a bit of red wine. Both the lamb and wine are vacuum sealed and then barely simmered at 80C (190F) for five hours. The result is an intensification of flavors which can never be achieved using traditional cooking methods.
I would never have had room for dessert if it hadn't been a sanely small portion of intense flavors and under sweetened. A small - perhaps 2 ounce size - frozen mousse of blackberries and blueberries with two slivers of home-made brownie. But just to add one more surprise, a small glass of their own distilled Calefate berry liquor - a smooth, intensly deep wild berry flavored compliment to both the mousse and chocolate.
The Calefate berry is tiny and is hand harvested for varieties of jams and dishes. Legend has it that anyone that eats the Calefate berry will return to Patagonia and Terra del Fuego. There is truth in the legend for I will not hesitate to return to Ushuaia just to enjoy another gastronomic experience at Dulce Fuego.
Seven course dinner (set menu changes) with wine, AR$220 = US$60 per person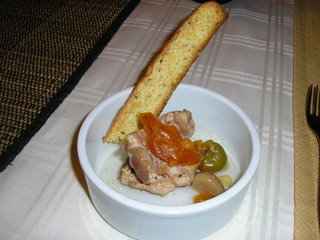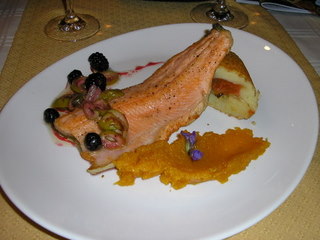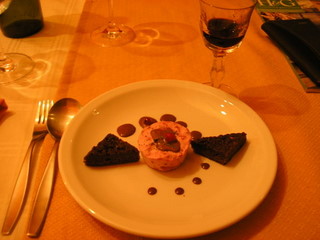 Particulars: if planning a trip to Ushuaia contact Dulce Fuego far in advance at:
Info@dulcefuegoushuaia.com, www.dulcefuegoushuaia.com Or call (2901) 444-849/1561-6556
Their preserved foods can be purchased at: Laguana Negra, San Martin 513, Ushuaia





Recommended
Lomitos Martinica, San Martin 68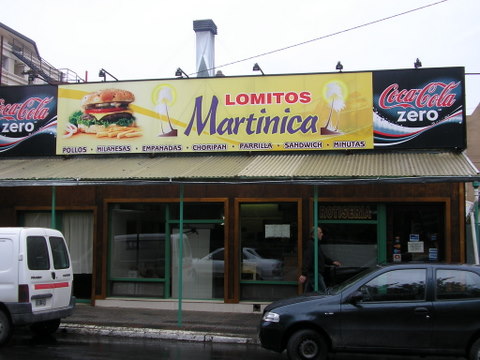 Lomitos Martinica is nothing to look at, garish yellow and red sign above a non descript building, no décor, 12 stools at a white Formica counter directly in front of the grill and four tables in a side hall. One highly respected guide book called it a dive, yet gave it high praise, and so will I. But when I use the word dive I think of a greasy-spoon with uninterested staff and boring food badly prepared. Lomitos Martinica deserves none of those adjectives.
Those twelve stools and four tables are full both at lunch, from noon to 3:00pm, and for dinner, from 8:30 to midnight, with workmen, well-heeled locals and, during my five visits, a number of European and some American tourists. There was a steady stream of phone calls and walk-ins for takeout.
Five men serve as waiters, cooks and cashier, dishing out heaping platters and humongous sandwiches of fresh wood charcoal grilled chicken, beef, lamb and sausages as well as griddle-cooked charrisco steak, burgers and a small variety of crisp deep fried items. This meat heaven is accompanied by fresh mixed salad or a large bowl of tender baby lettuce, ripe tomatoes and white onions. The men are friendly and personable and greet most customers by name. I was definitely the only non-local in the restaurant that evening but that only spiked their interest in knowing everything about me.
For my first meal I had a charrisco steak, which must have been at least 12 ounces, and the tomato, lettuce and onion salad. I would have preferred the steak to have been grilled over charcoal but they used the griddle. The charrisco cut is extremely popular in Argentina, flavorful but not the most tender. The bill came to AR$30 (US$8.10).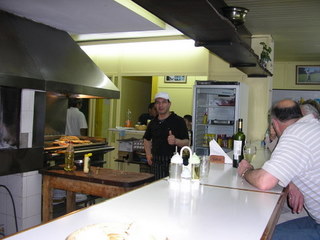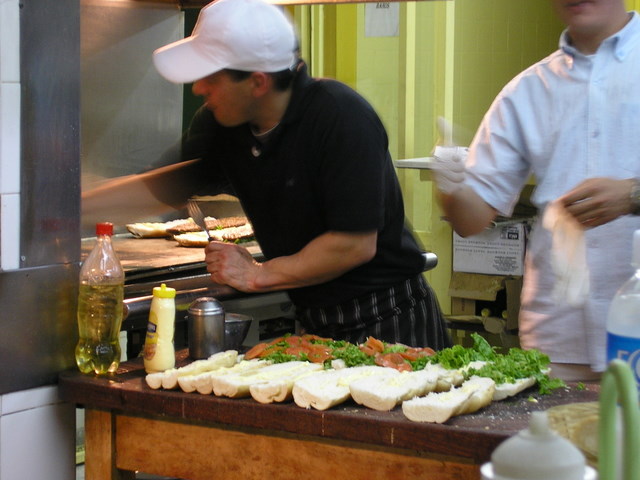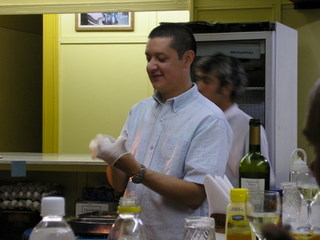 When I stopped two days later for lunch they greeted me by name -that is Chef since in restaurant parlance if you are one that's your first name. Speaking to locals, I heard they were famous for their Milanese. It is a steak pounded paper thin to a rough rectangle approximately 12" X 6", breaded and very quickly deep fat fried and served with fresh lemon wedges on a large roll. (Fish fillet, not pounded, or chicken breast are also used in a Milanese). The steak was very tender, the meat flavorful, the freshly squeezed lemon juice enhancing the natural flavors. It was not oily in any way (not true in all Argentine restaurants). With a salad the bill was AR$20 (US$5.40).
My third dinner was the mixed grill - a slab of beef, chicken breast, and two sausages. Unfortunately, like many restaurants, the beef and chicken can sit on the grill for way too long. (Argentine's like their meat well cooked. It is perfectly acceptable in Argentina to observe the cutting of the grilled beef and, if it's not to yur liking, to ask for another piece.
The sausage was the classic Spanish Morsilla, or Blood Sausage as known in England. Normally this was never one of my favorites since in many cuisines it can be greasy because it is pan fried resulting in a mushy texture. But grilled over wood, it was neither, with the smoky wood infusing its soft interior. With a salad, the bill once again came to AR$30 (US$8.10).
The last two visits I was with other guests from the Posada (I sent a dozen new people to Lomitos Martinica). The cooks make an excellent version of a very popular Argentine sandwich: make a thin omelet, top it with a slice of ham and cheese. Put that on a huge beef burger, skirt steak, grilled sausage or tender fried chicken fillet with lettuce, tomato and mayo all in a crusty bun or roll. I had the skirt steak and the chicken. This time the steak was very tender and juicy! They were both delicious, filling and the combination works. AR$21 (US$5.75).
A bottle of beer costs AR$5 (US$1.35), and a bottle of decent local Fuegian wine will set you back AR$12 (US$3.25).
Lomitos Martinica is a neighborhood gem!





Recommended with reservations
Restaurant Kaupe, Roca 470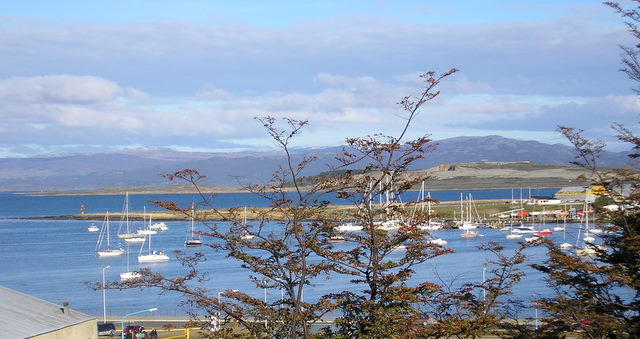 Sitting up a hill on Calle Roca above the business district in a comfortable house with huge glass walls overlooking the entire Ushuaia harbor, Restaurant Kaupe has been a bastion of classical cusine for some time. Chef Ernesto Vivian, like all good chefs, utilizes the freshest of local ingredients to create small, simple dishes, superbly presented, seasoned with a deft touch that enhances, not masks, their natural flavors. For this privilage you will pay dearly. Kaupe does cater to an international tourist clientele.
The room was simply decorated, crisp white cloth on the well spaced tables allowing every diner the same view, white candles and a few artistic touches create a relaxed atmosphere. But the music, even though muted, was an odd selection of rather bad modern pop that did not add to the ambiance. Menus were provided in French, English or Spanish by a wait staff impeccably trained in French service yet exuding not even the slightest attitude to upset a diner's comfort. After the first course I was asked if I wished to have the entrée now or wait. I wanted to wait and enjoy the atmosphere. The entrée was brought within five minutes of my indication that I was ready.
Argentina does bake good breads, but the standard, everyday fare that is too often served is a commercial version of what I can assume used to be something interesting but now are pasty, pale slices that are ghosts of a long thin Italian loaf. What Kaupe served were white bread rolls but these were warm, succulent, flaky clouds. A gently browned crisp exterior gave way to that pleasant aroma of fresh yeast. A later talk with Chef Vivian exposed his secret - a touch of vinegar to help with both leavening and flavor. The bread was served with Argentina's ubiquitous mixture of butter, cheese and minced herbs.
The menu included many dishes I would like to try: imaginative ones using sea bass, scallops, and steaks but at prices that were not in my budget.
The First Course was the whole roe of local Hake, gently steamed and cut into bite sized pieces. They had been marinated in olive oil, a little bit of garlic, onions and tomato concasse. Simple and with each bite I wanted to eat it even slower to savor the delicate flavor of the roe and use the marinade to season the last roll.
The main course was Tierra del Fuego's ultimate local delicacy, Centolla(King Crab). Because it is expensive - at least US$25 per pound in fish markets - many restaurants make it part of a casserole with thick sauces, mushrooms, shrimp and scallops. But Chef Vivian added a decent portion of this buttery red crustacean into an equally exquisite reduction of white wine, cream, and herbs with just a touch of hot pepper as a subtle aftertaste. The reduction was tinted pink by the red centolla. Kaupe makes a Centolla Crepe that wins high praise and is expensive.
For dessert I choose a Dulce de Leche crepe. Dulce de lache is a thick caramel spread made from sweetened condensed milk. The crepe was drizzled with warm cognac. A good and simple combination.
Portion sizes are small by any standard and there are no accompaniments with the entrees. I expected to pay more than the norm for this dinner, and it was expensive by Argentine standards, but the quality was high. The three small courses came to AR$220 (US$60.00).
Kaupe is known for its wine list and has an extensive collection of quality wines from Argentina's best bodegas. Prices ranged from AR$65 (US$18) to well over AR$350 (US$93.00) with most in the middle of that range.
Not recommended
Restaurant Kuar, Perrito Moreno 2232
Kuar is located about one mile or so to the east of Ushuaia on the waterfront in a very industrial area. It came "highly recommended" by a leading guide book for its imaginative menu, its location and architecture. I would agree with one of those three points (architecture), except for a restaurant that "one" should be the food.
As I approached Kuar I did see a very attractive stone and dark wood building with a modern iron sculpture, some construction garbage from a project next door marred the image. It is directly on the waterfront, literally on the edge of an embankment. It has a great view straight across the Beagle Channel, if looking out of a grimy picture window is fun. Looking down onto the waterfront from this window side table gave me a stunning view of discarded toilet bowls and other industrial garbage - I did not take a photo of the site.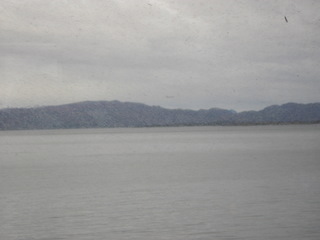 (grimy picture window, discarded toilet bowls were below)


The interior architecture is interesting - the theme of stone and dark wood was consistent, a large central brass fireplace, white linen on the tables, modern iron and beige cloth lamps hang from the ceiling with imaginative stained glass wall sconces. Even the bathroom was decorated with a terrazzo floor and blue/green art glass framed the built in mirrors.
I got the impression Kuar was more a night time venue due to the large, well stocked bar, equally large bi-level bar seating area and small stage for live music. Night time makes the view superfluous - they're too far from the harbor for any waterfront lighting (except on January & February summer nights when darkness arrives at 11:00 PM and dawn at 3:00 AM).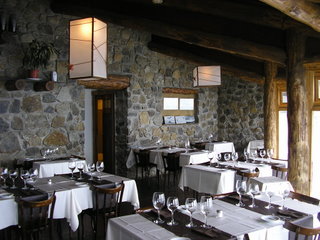 The menu lacked imagination. I did enjoy, a brushetta of white anchovies topped with melted mozzarella, garnished by radicchio and a creamy vinaigrette. After deciding that nothing on the menu, except the white anchovies, really interested me - a fairly ordinary selection of sandwiches, steaks, pasta and fish that I was fairly sure was not all local - I decided to see what they could do with their simple lunch special of medallions of chicken breast and whipped potatoes topped and pureed squash. It came with ice cream. He did mention the price, (it was not listed on the menu) but I really did not pay attention - bad mistake.
What arrived were "Chicken McNuggets" devoid of any seasoning, not even on the potatoes. I had to add salt and pepper just to get a little flavor - and I'm known for not salting food after it's cooked. The pureed squash on top of the potatoes added some color but with the "white" taste of everything it was unimportant.
The chocolate ice cream came in a martini glass and had a rich, smooth, dark chocolate flavor. But it was smothered in one of those cloyingly sweet syrups some people pour into their coffee. The combination was awful.
But not as awful as the bill: AR$136 (US$36).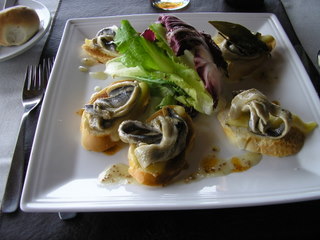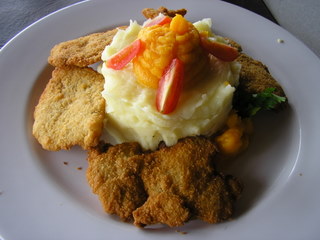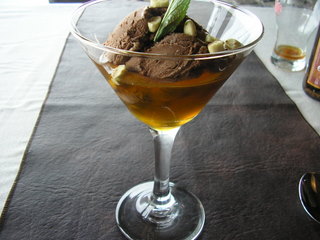 Update on Kuar May 2010
The preceding review was written in April 2009. In May 2010, thirteen months later, I received an unsigned message from Kuar in response to the review I posted on TripAdvisor.com. Actually, I received two:
The first message: "gordo putooooooo," basically translates to you're a big fat male whore.
The second message: "Tu critica es una mentira, y si te parece caro 35 no lo pidas el precio esta expuesto al publico. Los vidrios se limpian todas las semanas solo que estas a 3 metros del agua y cuesta mantenerlos limpios. Clientes como usted no los necesitamos, no ha dado a ningun lugar donde fue una buena puntuacion." (Basic translation: Your criticism is a lie, US$35 is "not expensive," the windows are cleaned once a week and there is no trash.)
As a Chef and business owner, the response from Kuar makes a classic mistake. Rather than contemplating the review of a customer, and at least addressing the major criticism of the cuisine, the manager/owner strikes out in anger - including profanity: "puto gordoooo." This response is indicative of a restaurant not being operated by professionals.
Avoid Kuar. There are many night spots in which to enjoy the local scene within Ushuaia without taking a cab out of town to a place that is only interested in your money.





Restaurant 137 Pizza & Pasta, San Martin 137
The seafood restaurant I wanted to try was closed despite the fact that its sign clearly said it was suppose to be open. But it is off-season and this is a tourist town. I was not that hungry, but it was already 10:30pm, so I choose another guide book recommended place close by - Restaurant 137 Pizza & Pasta - a bad mistake.
It was in a brightly decorated modern building and had seafood on the menu (I didn't want either pizza or pasta.) But the baked trout stuffed with vegetables was unavailable, so I chose crepes with salmon and shrimp topped with pesto, and a Caesar salad.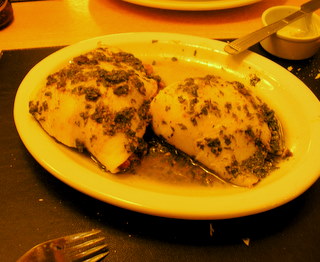 (These are crepes?)


What came didn't look like crepes. There were two fairly large, thick triangles of, I guess, pasta wrapped a couple times around a tiny amount of a curry seasoned mixture of salmon, shrimp and red peppers. The curry, which was not indicated on the menu, and the very oily pesto clashed. The dish was terrible - thick, pasty and tasteless. I ate most of one crepe before giving up.
The Caesar salad(?) was lettuce topped with cubes of unseasoned, untoasted white bread, Parmesan cheese and a humongous glob of plain mayonnaise - no seasonings whatsoever. I picked out a little of the lettuce then gave up. The bill came to just a little over AR$55 (US$15.00).
At 3:30 AM I woke up with cramps, bad cramps, and ..... No other Argentine restaurant in over five months of travel made me sick.
The couple next to me ordered a pizza with ham and mozzarella. When the waitress brought the pizza to their table, nicely garnished with black olives, it was not cooked -the cheese was not melted at all. I assume the crust was cooked. The couple enjoyed the pizza, but I have never seen an uncooked pizza in Argentina.