Dining in Tucuman
Highly Recommended:
Restaurant La Sirio-Libanesa, Maipu 575
Argentina has a substantial middle-eastern population. The Great Mosque in Buenos Aires is the largest in the Western Hemisphere. It is not suprising that both the Syians and Lebonese, two ancient business oriented middle eastern cultures, gravitated to New World opportunities Argentina offered. In many areas of the nation I became aware of Sirio-Libanesa Cultual Centers. They serve as both social clubs for their communities and many have very good public restaurants.
Tucuman's Sirio-Libanesa Club served one of the best middle eastern meals I've eaten. We ordered the tasting menu for two and were not disappointed. I have eaten in many middle eastern restaurants in the USA, but I had a couple dishes I've never seen in America, especially the delectable ice cold raw minted ground lamb with thick yogurt. The spread of 14 dishes, with wine, for two cost AR$40 (US$10.50)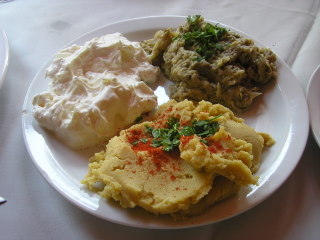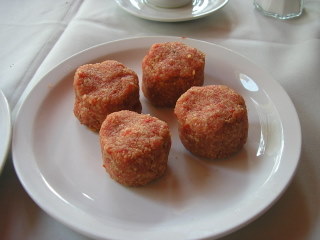 Restaurant Café Juana, Parque 9 de Julio, Calle Marcos Paz 1277
Charles Thays (1849 - 1934) was not a chef. A contemporary of Fredrick Law Olmsted, these two gentlemen revolutionized landscape design in the Western Hemisphere by introducing the English concept of recreating natural landscapes within urban environments. Thays, from 1889 on, spent his life in Argentina creating celebrated urban and private landscapes. Tucuman's vast Parque 9 de Julio is one of his masterpieces. Undulating for miles, it incorporates historic sites, a horticultural school, lakes, athletic fields, gardens and restaurants.
The Café Juana is the gem of the park's eating establishments. A modern glass and rock structure, it visually allows the park to enter the interior and has ample outdoor seating under the towering trees. The well dressed clientele and the number of Mercedes, BMW's and Citroen's parked outside should not deter the tourist into believing the Café Juana will break a traveler's budget. Like most fine Argentine restaurants, this is still in the land of a very good dollar exchange rate. Besides, the food is equal to the beauty of the park.
An excellent salad of greens, goat cheese, peppers and an earthy vinaigrette with grilled smoked ham was a delight of flavors and textures. A succulent flank steak rolled around a savory bread and mushroom stuffing with a red wine demi glace was superb. And a grilled well seasoned trout, flaky and juicy, proved that simplicity does not have to equal boring in the correct hands.
An hour and a half later, we returned for a coffee and noticed that some of the same patrons were still relaxing at their tables. Argentina is Europe, dining is a satisfying event in itself.
Lunch for two with wine, AR$144 (US$38.00)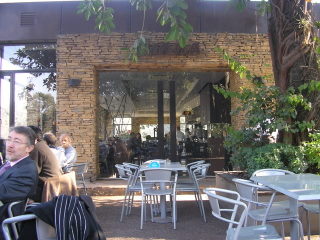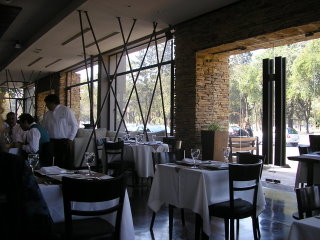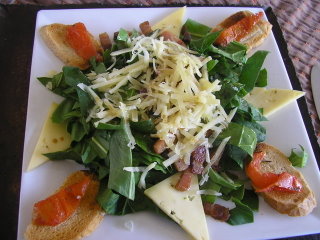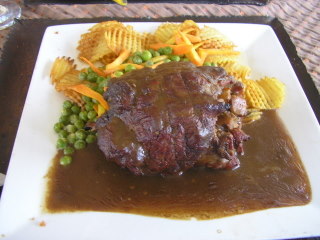 Recommended:
Restaurant La Crillo, Laprida 181
All Argentine cities have many restaurants. With any dining at a new place, instinct plays a large measure in your decision. Are there a number of locals dining? Does the menu suit your interest and budget? Is the atmosphere to your taste? Is there live music??
The later we were not aware of until half an hour into our meal. We noticed the old upright piano, but many restaurants will have them as mere decoration. To our pleasant surprise, La Crillo fulfilled the first three criteria before we walked into the door, and then a quite older gentlemen sat at the wonderfully tuned upright and played an eclectic variety of popular music for hours.
The food was good too! Broiled trout smothered by sauted peppers and onions with pureed squash and a strip steak totally enveloped in a mushroom cream sauce. Not exciting, but well prepared Argentine standards, well served in a nicely designed atmosphere at moderate prices - with the music as a decided plus!!
Dinner for two with wine, AR$93 (US$25.00)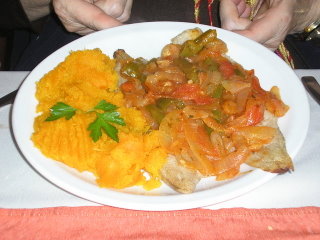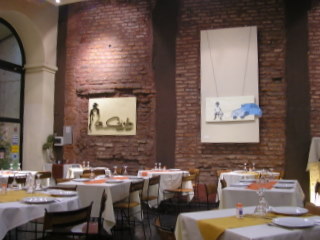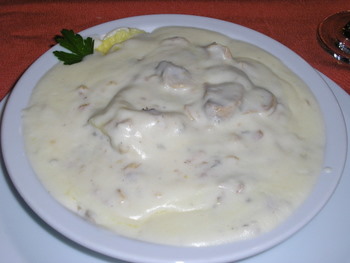 Café Harris, 25 de Mayo
This is the place in Tucuman's business district for coffee, based on the crowds of well-dressed locals from mid-morning on relaxing, discussing business or working on their lap-tops in this wi-fi hotspot - the coffee and croissants are really good as well! Looking like an English pub with highly polished wood tables and a large bar, Café Harris is also a full service bar and serves good sandwiches and other lunch fare. It's convenient for anyone walking around Tucuman's main shopping area.