Trelew's Restaurants
from Super Panchos to super salads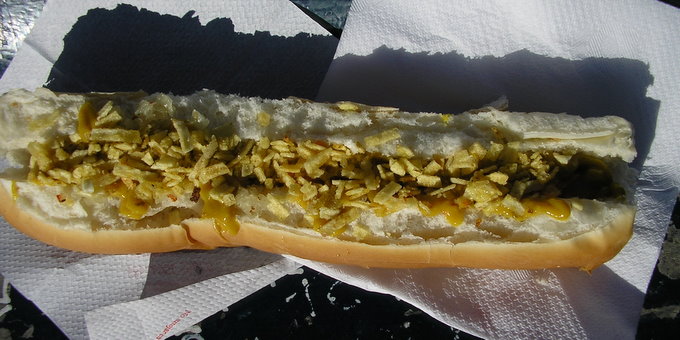 (a Super Poncho - an Argentine icon)



Highly Recommended:
Restaurant Sugar, Avenida 25 de Mayo 247
It is easy miss Restaurant Sugar (Trelew, Argentina) even if you're looking - I did three times. There's no signage on the building and many distractions walking near the Plaza. I concluded that Avenida 25 de Mayo 247 was a restaurant because, through the window, I saw people eating. I'm fortunate I did because I liked it enough to return with a friend for a second dinner.
It has a modern décor and is popular with a younger professional clientele, as the evening progresses, which makes it a bit noisy. I'd prefer if the lighting was lowered a notch. The menu has a nice mix of meats, fish, sandwiches, grilled Panini, salads and an extensive wine list. I was quite hungry the first dinner and ordered guided by my interest, forgetting the portion size at most Argentine restaurants.
My first course was tempura batter fried mozzarella cheese next to a bed of red lettuce and tomatoes. The mozzarella was fresh, hot and not at all oily, and it was two sizable triangles. The tempura crust was a crunchy foil for the creamy cheese. I expected a small appetizer - the portion size was large enough to be a lunch entree.
Naturally, I had ordered a salad since the menu had some interesting descriptions, unlike too many restaurants. What I thought was going to be an interesting mixed salad was a nicely arranged platter with shredded carrots, hearts of palm, hard boiled egg, corn, mixed greens and tomatoes. A timbale of rice in the middle was topped with sautéed sweet onions. Once more, that would have satisfied my hunger alone.
But I had ordered an entrée - steamed Marluza, sometimes known as Argentine hake. Three generous, flaky fillets with cubes of parsley potatoes filled a large plate. Obviously, I could not finish everything, and I have to remember Argentina's policy of serving large portions.
One décor suggestion is to remove the unused pour-over coffee machine on the otherwise attractive dark wood room divider/wine glass rack.
My dinner cost AR$48 (US$13). Most wines on the list were AR$15 to 35 (US$4 - 9.50)
Two days later I returned with a Welsh-Argentine friend. My choice of braised veal shank was just right. It was tender and well seasoned atop on bed of creamy potatoes, with the white wine braising liquid, and vegetables - no first course or salad this time! AR$28 (US$7.60)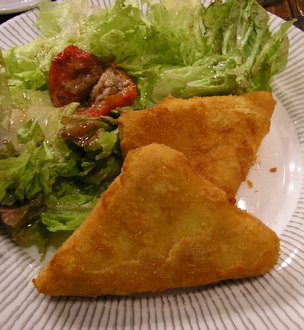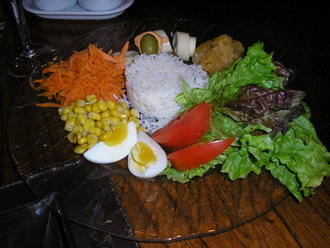 (tempura mozzarella cheese and mixed salad)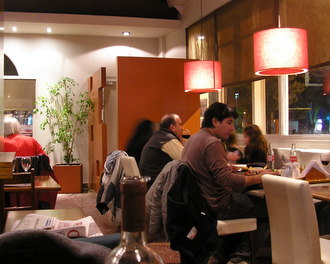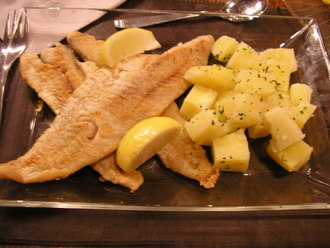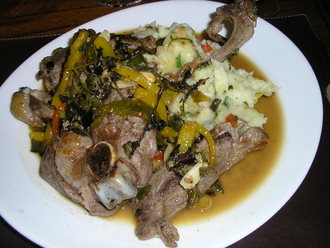 (marluza fillets and braised veal shank)





Recommended with reservations:
Restaurant Miguel Angel, Avenida Fontana 246
Restaurant Miguel Angel is listed in the guide books as one of Trelew's leading up-scale establishments and, in all honesty, I should give it a second chance, but it was closed on the only day I was able to return. It is in an attractive stone house on the main shopping street in Trelew with an equally attractive interior décor mixing antiques with modern kitsch, which works after you look at it long enough - such as three sets of framed men's ties on the back wall of one dining room. The lighting was subdued, the service friendly with many obvious regulars but, personally, I would not play top 40 Argentine pop music.
Miguel Angel is known for its homemade pastas and pizzas, but it also had a number of standard Argentine meat dishes that did not inspire interest. From the long list of pastas and sauces, I ordered fettuchini espinacas con salsa de crema de hongos secos (spinach fettuchini and a dried mushroom cream sauce -in many Argentine restaurants you order both the pasta and sauces separately) and Ensalada Primivera
.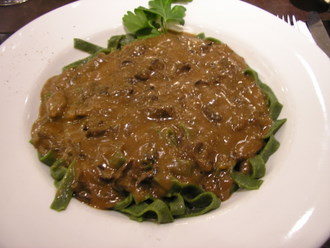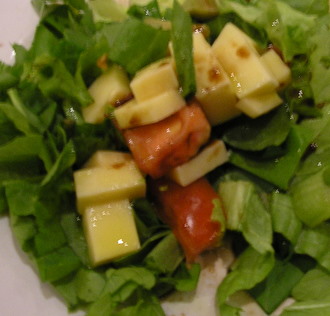 The fettuchini had a distictive flavor of fresh wheat and spinach and a nice toothiness - a life of its own which only home made can imbue. It would have been good with just garlic and olive oil (a choice I've never seen on an Argentine menu). The mushroom sauce was rich, intense, dark brown and if paired with a beef fillet would have been excellent, but it did not enhance the pasta given its density of both texture and flavor. The color combination of dark brown and green didn't do it for me either.
The salad was a disappointment - three types of lettuce, tomatoes, chunks of strong Edam cheese and olives. "Primivera" usually indicates a variety of fresh vegetables. Edam cheese is popular in Argentina.
The dinner started with an amuse bouche of two flaky, flavorful empanadas. A glass of Latitude 33's Malbec, a bodega that I believe makes some of Argentina's best wines, and a bottle of agua con gas - sparkling water - finished the meal.
The cost was AR$63 (US$17.50). When I return to Trelew I will give Restaurant Miguel Angel a second review. The pizzas looked fresh and interesting although their cost was on the high end in Argentina.
Do keep in mind that Argentina does not ban smoking in eating or drinking establishments. There are just as many places that allow smoking as ban it altogether. Other establishments have separate smoking and non-smoking sections, such as Miguel Angel and Sugar. You have to ask.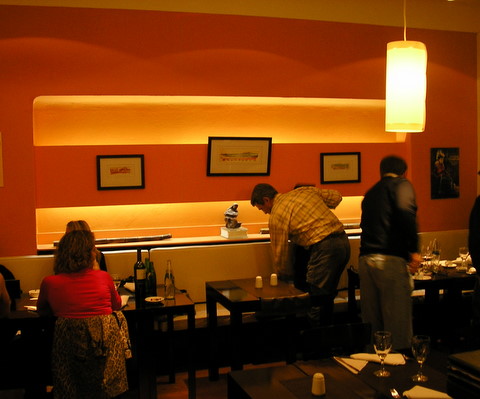 (interior: Restaurant Miguel Angel - 1 of 3 dining rooms)





Not Recommended:
Restaurant La Bodequita, Belgrano 374
La Bodequita is listed in the major guide books which just proves to me that the average reviewer leans towards bland, safe, nondescript food. The restaurant has been in Trelew for years and has a décor to match its unimaginative menu - pastas, plain fish and meat dishes - the same old in too many average restaurants - a universal fact, not just in Argentina.
One of Argentina's comfort foods is Milanesas, which is a preparation technique used for chicken, beef and pork. A boneless fillet is flattened to 1/8th inch, lightly breaded and fried. The best are juicy with a crispy crust, not, oily and served with wedges of lemon or a sauce such as Roquefort cheese.
La Bodequita listed a chicken Milanesas topped with two eggs sunny side up. That was a variation I'd not had before, although Argentine comfort food frequently includes fried eggs in various combinations of dishes. The chicken was tough, the breading too thick, and it had been overfried making it tough and greasy. The eggs were good. The platter came with French fries and I had a side salad of lettuce and tomato. It was a filling but unsatisfying lunch that was, at least, inexpensive: AR$28 (US$7.60).





You know you have to have one:
What is a Super Poncho you might be asking?
It is Argentina's ultimate comfort fast food. It starts with a foot-long hotdog, usually steamed but the best are grilled. Then topped with many combinations such as sautéed or fried onions, French fries, chili, barbequed pork, marinated shredded carrots, peppers, chopped tomatoes, pickled peppers, fresh cheese or cheese sauce. The topping choices are limited only by imagination. Every Argentine city has Super Poncho stands or fast-food restaurants and the topping selections will vary. I do not know the history of the Super Poncho, but Homer Simpson has become its beloved symbol.