The restaurants of San Martin de los Andes
and Villa La Angostura
Food with a view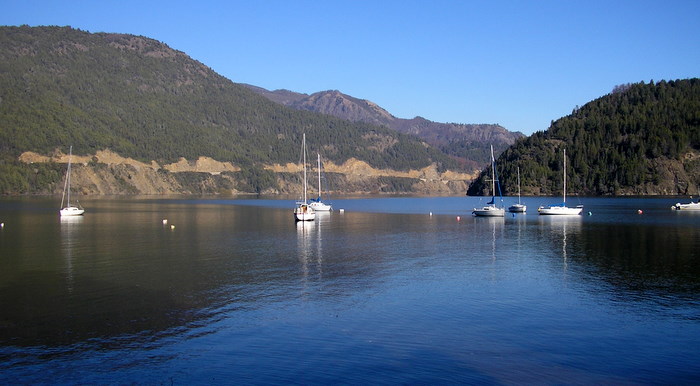 (view of Lago Lacar from Restaurant La Berra)
Highly Recommended:
Restaurant La Barra
Calle Almirante Brown and the Costanera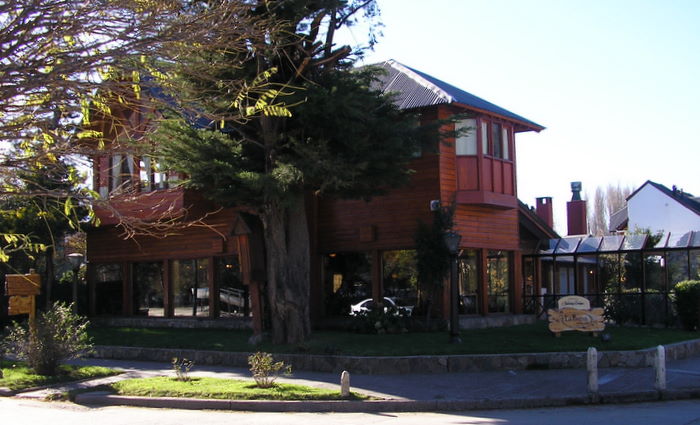 I am enamored with restaurants that have a water view - river, lake or ocean. I am happy if I can look out onto water but put some mountains there and it's even better. Unfortunately, many restaurants that can afford what is usually premium real estate cater to the least common denominator of taste in order to maximize the number of customers.
Fortunately, Restaurant La Barra does not do that, and it has a spectacular setting on Lago Lacar with a stunning view of the mountains. The dock for lake excursions is directly accross the street. Its building is wood, glass and stone, like most in San Martin, with a large stone fireplace that must be wonderful when it's cold and snowy outside. An odd touch was a saxophone mounted on its bar that had been adapted as a beer tap! I ate two lunches at La Barra wanting to take advantage of the beautiful lake view.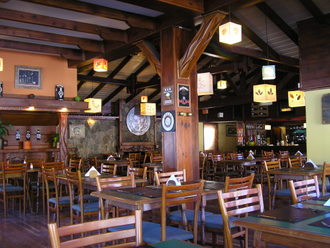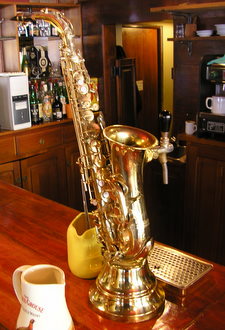 For my first lunch I ordered Ciervo Ahumado (smoked Patagonian deer), as an appetizer, and the Argentine white fish, Pechuga in a green onion wine/cream sauce for my entree.
The thin slices of deer had that intense wood smoked flavor that I love in Argentina. It was served with an herbed cream. I sliced small pieces and ate it with the cream on equally small pieces of flavorful rolls.
Pechuga, which has no English translation that I have been able to find, is a firm white fish that takes nicely to a variety of sauces and this combination worked well. Perhaps I would have served it with something else than French fries, but at least fries in Argentine restaurants are homemade. These had an interesting garnish of crispy deep fried, thinly sliced carrots.
The cost was AR$47 (US$13). You could order a bottle of house wine for AR$12 (US$3.25).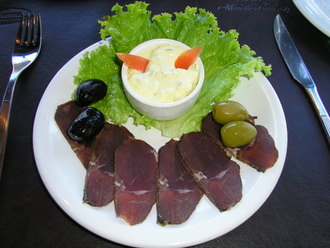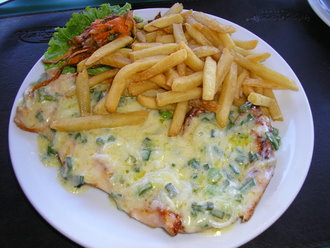 My second lunch started with Trucha Ahumada (smoked Patagonian trout) - an equally intense flavor which I also paired with the rolls and the herbed cream. The entrée was Tortilla de Verdura (vegetables and egg cooked on both sides to a golden brown.)
The cost for that lunch was AR$36 (US$9.50).
If I lived in San Martin, La Barra would become a regular hang out.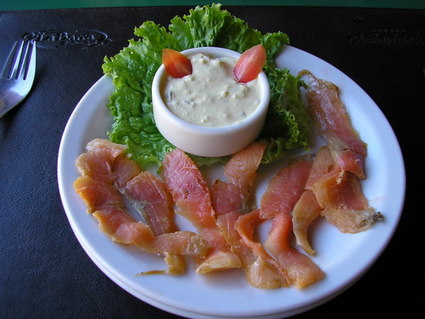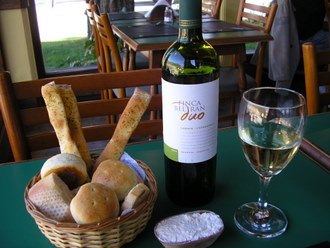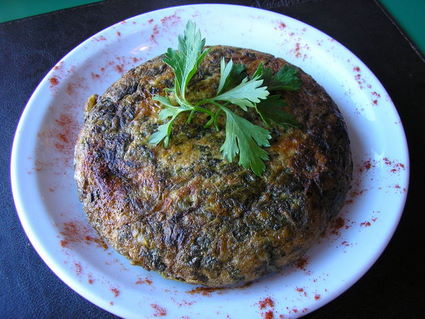 Restaurant del Puerto
Camino al Puerto, La Villa, Villa La Angostura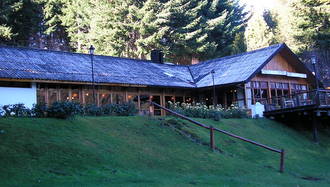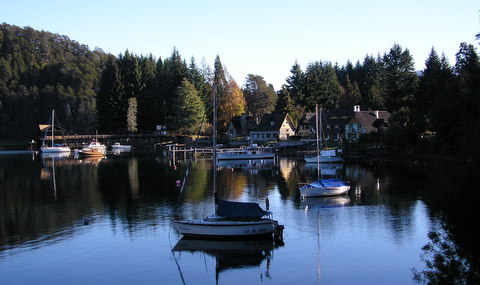 Set atop a small hill with a lawn sweeping down to the water, Restaurant Del Puerto looks out on a beautiful view of La Villa yacht harbor.
The restaurant interior was simple and pleasant, relying on the spectacular view. The menu used local ingredients with some nice creative touches.
First course was marinated beef tongue - I can hear what North Americans are saying now, TONGUE! In my youthful past in Pennsylvania (USA) tongue (a common Pennsylvania German dish)was always a very tough part of any mammal. As a chef who is committed to the principle that everyone must try everything at least once I was not disappointed with a reintroduction to tongue. This was a thinly sliced tender delightthat had been marinated in a flavorful vinaigrette! It had a topping of diced green and red peppers, onions, carrots and sieved hard boiled egg.
The entrée was a wonderful grilled Patagonian trout smothered in a light a cream sauce with diced smoked deer and smoked salmon accompanied by mixed vegetables with a sweet sugar glaze. The trout became a succulent foil for the rich smokey flavor of the deer and salmon.
The bill came to AR$56 (US$15.35). Their wine list was in the moderate range with good selections: SR$20 on up (US$5.50/bottle on up).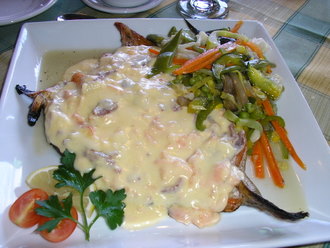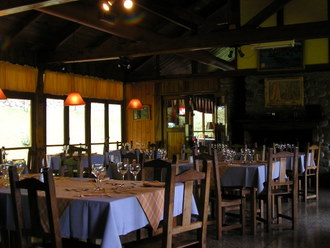 Reataurant Ku
Restaurant Ku, Ave. San Martin 1056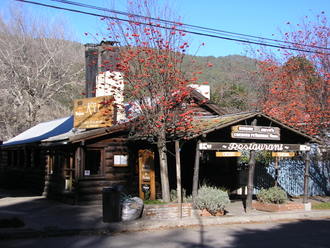 Ku is touted in the major guide books as the "best parilla in San Martin". If it is, that's unfortunate.
San Martin does have a number of restaurants that I did not have the time to experience, and I hope there are better parilla's than Ku. (I will not write about a restaurant unless I eat their at least once - unlike nearly all other travel guides.)
The décor of Ku is Patagonian rustic unabashedly advertising the bodegas of the region - at higher prices than comparable San Martin restaurants.
My first course was simply odd. Translating the menu accurately, I ordered "grilled mozzarela with tomatoes and smoked deer." What I got was a very strange dish by any description and certainly not was described on the menu! It was a generous portion of an amalgamation of melted, not grilled, mozzarella mixed with sautéed chopped tomatoes, basil, garlic and bits of smoked deer. Eating it as it was presented was bizzare. The only thing I could think of doing was spread it on the bread which was already on the table. After that I was nearly full. As a taste sensaton, it was not too bad and with a football game on a wide screen TV and lots of beer, it would have been a good sports bar munchie.
As a first course for a good dinner, it was a bad combination.
For the entree I ordered grilled Patagonian deer with smoked bacon, and it was as tough as shoe leather.
I was looking forward to a dinner at a restaurant that had been written up by every "reputable" guide book as the "best," and it was turning into a major disapointment - I wonder if the "major" guide book writers actually eat, sleep or even visit the sites they write about ?
The Ku chef needs to learn how to at least use a jacquard, a simple French device that effectively tenderizes lean meat without the use of any chemicals. Actually, many chefs could use a jacquard since Argentine meat is lean - flavorful, but lean.
I am a chef and love to finish everything on the plate, but I could not chew through more than half the deer without my jaw aching - the next day it did ache!
My odd, disappointing and chewy meal ran AR$75 (US$20.50).