San Juan
The Argentine Wine Country's quiet city
31°32'0 S. Lat / 68°31' W. Long Pop:112,000 elev: 820'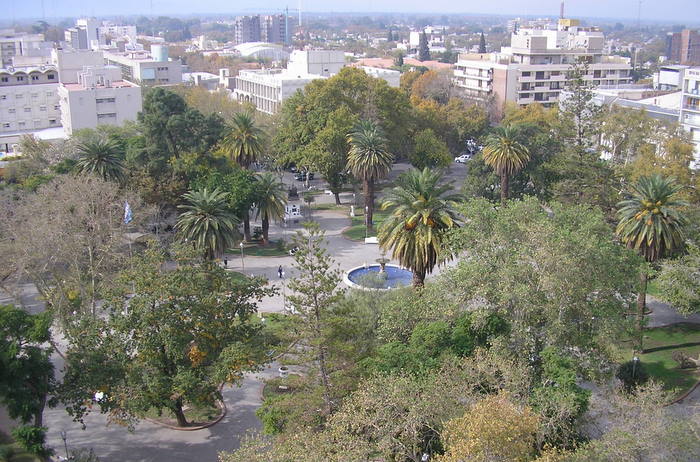 It is 11:30 pm at Hostel Triasco as I walked into the common room and entered a milongo - a tango and folkloric dance party. What a wonderful way to spend a birthday evening.
The intricate steps of the tango, with a genesis in folkloric dance and its varied and complex music, make visual theater. Tango is led by the man, but unless the women is equally adept at following, the dance falls apart - and she may well spring an unexpected move for which the man has to adapt quickly so as not to disrupt the symmetry. Like everything between men and women, Tango requires team work. It's relationship illuminated through dance. It's Argentina illuminated through dance.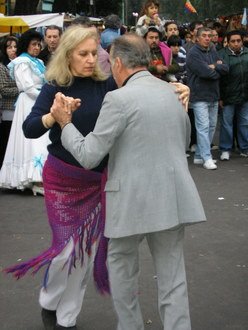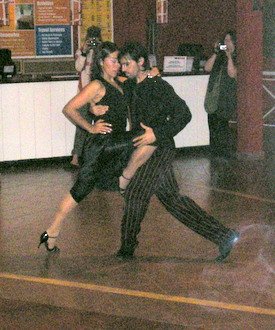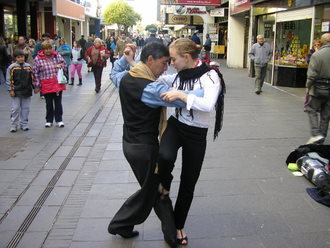 Earlier that evening, sitting in a café on the pedestrian mall in San Juan in balmy 75 degree (F) weather, in the third month of Autumn, I watched young men greet each other with a kiss on the check, a hug, a ruffle of the head. I watched them greet much older men the same way, not reluctantly, but go out of their way to say "Buenos noches." I watched them respectfully greet and treat women with the same warmth. These young men were not leering at young women, or catcalling, or drunk. Argentina is not the stereotype most North Americans categorize as South American behavior.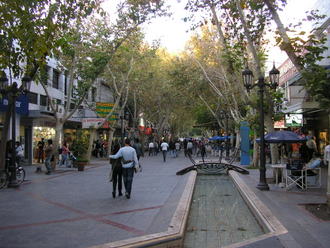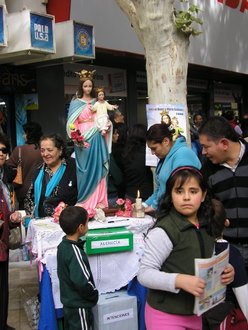 San Juan is a comfortable, prosperous small city of 112,000 people. It's the capital of one of Argentina's least densely populated provinces - about 3 people per square mile. Yet the province is part of the nation's wine region powerhouse.
San Juan has relaxed plazas and fewer cars then its larger neighbor, Mendoza. Founded in the 16th century, it has few buildings reflecting its colonial heritage having been totally destroyed by one of South America's most powerful earthquakes in recorded history in 1944. Rebuilt through a concerted effort by the Federal government, it still, unfortunately, lives life on the edge laying upon South America's most dangerous tectonic fault. But you do not see fear or anxiety in the people, nor do you see many high rise buildings.
San Juan is an easily walk able city with streets that do not change their name after intersecting the central Plaza. Like many Argentine cities, outlying plazas offer numerous green spaces. Most of the streets are shaded by huge arching trees. The Andes are visible to the west and, like Mendoza, the sunny dry environment is well irrigated by a multi- thousand- year-old canal system started by the indigenous cultures channeling glacier water from the mountains. The city has a wide, pleasant pedestrian shopping mall lined with cafes. The surrounding streets are equally dense with shops and cafes forming the focus of San Juan social life on pleasant evenings - which is most of the year.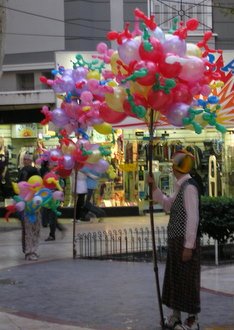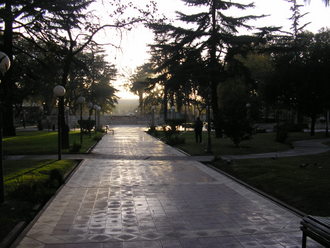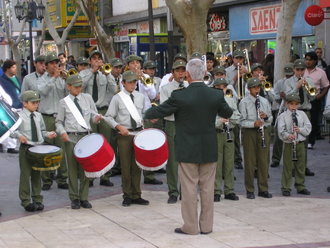 Numerous bodegas (Argentina's vineyards and wineries) are located largely to the east of the city and tours can be arranged through your accommodations. A gourmet supermarket a block from Plaza 25 de Mayo on Calle Rivavavia and a vast Super Vea supermarket a half-dozen blocks west of the Plaza,sell nearly all of San Juan's vintages, and there are a number of specialty wine stores.
180 miles northeast of the city is the unusual Ischigualasto Provincial Park. It is better known as Valle de la Luna (Valley of the Moon). Although I did not visit the park on this trip, I met many travelers who have and describe it's stark, rock formations as equal to the southwest of the United States. The scenery is particularly stunning on nights with a full moon when special tours are offered.
On Plaza 25 de Mayo, the modern brick Cathedral is simple, devoid of the ornate carved stone, marble and the gold leaf of most Argentine Spanish inspired cathedrals. The original building was destroyed in the 1944 earthquake. Next to the cathedral is a Venetian inspired campanile that can be accessed through an elevator, AR$2.5 (US$.65) for a panoramic view of the city and surrounding countryside.
The spacious and pleasant Parque de Mayo is designed for family outings. A large, landscaped lagoon is filled with ducks, swans and fish all vying for the bread eager children throw at them. A small amusement park and child-sized railroad are currently undergoing a government funded renovation. The park is next to the site of the former British built railroad terminal whose buildings have been renovated to house an arts complex. The San Juan tennis club and a stadium designed for both soccer and bike racing adjoin the park.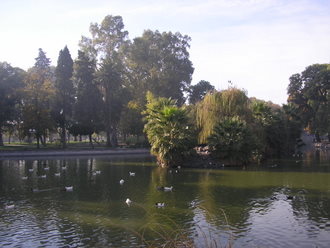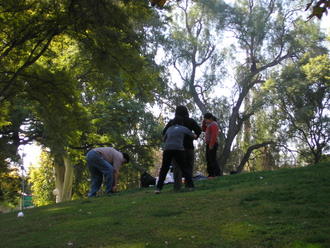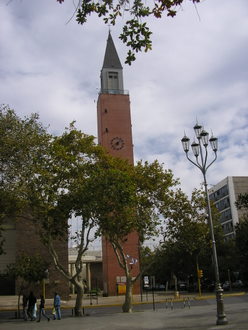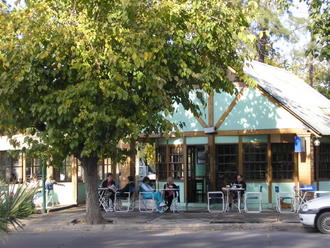 (the campanile and a cafe next to Parque de Mayo)


San Juan's great native son is Domingo Faustino Sarmiento Albarracín, (1811 – 1888), the Thomas Jefferson of Argentina.
His family home, Casa de Sarmiento, Avenida San Martin and Sarmiento, is one of the few 18th century structures to survive the devastating 1944 earthquake due to its massive, one-story adobe walls. The Casa is a beautiful gleeming white adobe house museum, and national treasure, showing the everyday life of this intellectual family and the many accomplishments of Sarmiento - writer, political activist, diplomat, astronomer and President of Argentina.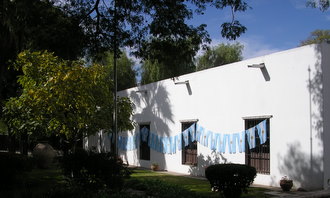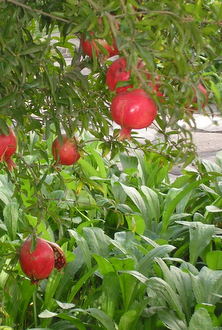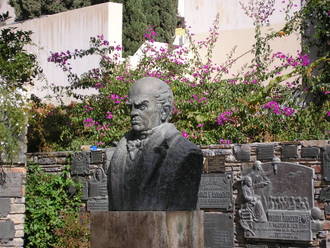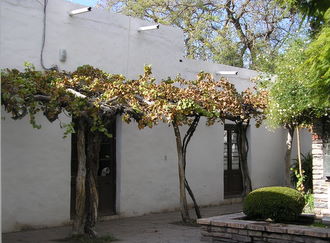 (observatory Valle de Calingasta, Chile, founded by Sarmiento)


The Museo Archeologica Meriano Gambier,RN-40, barrio Rawson, between Progresso and Calle 5, part of the University de San Juan, has a small but interesting exhibition of the indigenous cultures for the past 7500 years. It contains magnificently preserved mummies found in the surrounding mountains. It is 3-½ miles outside the city center, and it's best to take a taxi.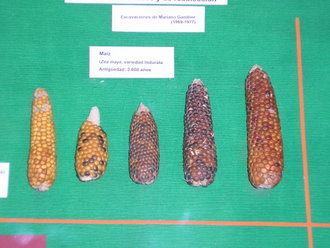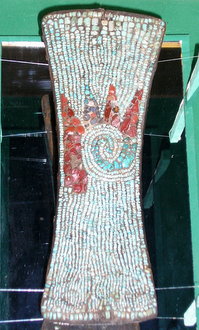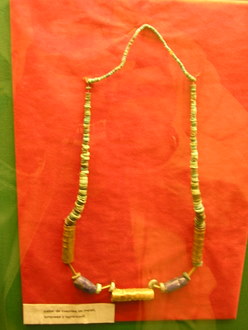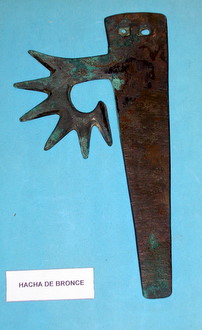 I had good dinners at two adjoining restaurants, under the same owners, but with very different menus and atmospheres, yet dishes from the same high quality kitchen - Restaurants deSanchez and Baro. Argentina's love affaire with the ham and cheese sandwich reached another height at Cafe Capalino on the mall.




You can locate the city of San Juan by viewing a map of San Juan Province at: maps of Argentine provinces