Puerto Natales Restaurants
Good restaurants at fair prices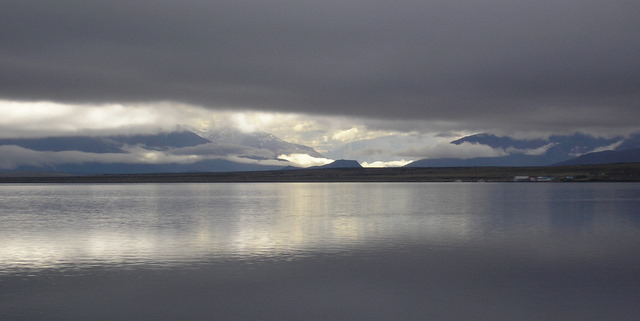 (view of Last Hope Sound and the Paine Massif from Restaurant Los Pioneros)


Recommended
Restaurant Los Pioneros, Costanera Pedro Montt 168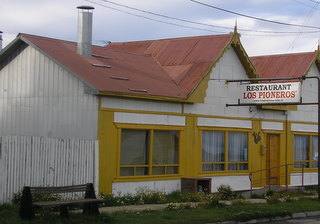 Los Pioneros is in an unassuming older waterfront house with classic Patagonian steep gables and decorative wood trim. Like many older buildings in Puerto Natales, it's exterior is slightly weather beaten and in constant need of fresh paint. The interior is likewise unassuming, blond wood paneling, white clothed tables set with silver and wine glasses. What is not unassuming is the view from the large windows. The entire panorama of Last Hope Sound and the Paine Massif is your dinner companion, and there is nothing weather beaten about it's cuisine.
My first course was an oddly named dish, Oysters Parmesan au Gratin considering it did not contain oysters. In a nice pottery crock, a piping hot seafood broth was brimming with fresh sea scallops covered in fresh melted parmesan cheese served with warm rolls and a piquant tomato relish - with a side salad it would have been a satisfying light lunch.
The main course was Salmon with Seafood Sauce. The large salmon fillet had been sautéed and smothered in a light cream sauce, generously flavored with Sherry, with chunks of scallops, shrimp and mushrooms. Both the sauce and the salmon complimented each other creating a rich and satisfying meal. I had a nice salad artistically arranged with tomatoes and cucumber slices fanned on the lettuce.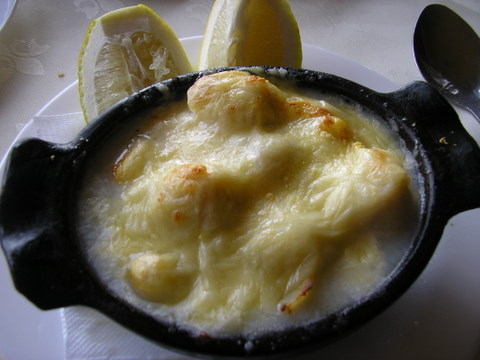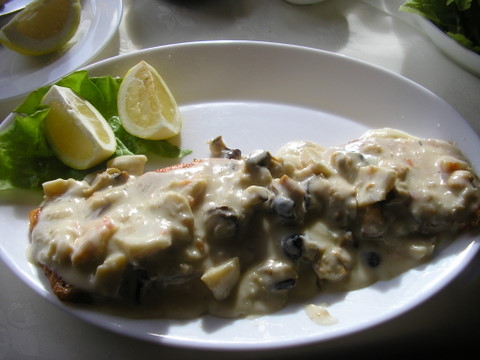 Los Pioneros had a modest, and moderately priced, wine list of Chilean reds and whites in the CH$2500 - CH$12,000 range (US$4.50 - $21.00). I tasted a glass of Gato Sauvignon Blanc CH$3000/bottle (US$5.26) - crisp and full bodied for a white. It was not overpowered by the rich entree.
The menu is heavy on fish and seafood, as is appropriate for a fishing village. All the standard sub-antarctic varieties are available: king crab, hake, conger eel, trout and salmon each available in a variety of cooking methods and sauces. A small selection of meat dishes are also available. My lunch (dinner menus are nearly always the same in both Chile and Argentina) came to CH$10,500 (US$18.50).





El Asador Patagonia, Autruo Prat 158 on Plaza de Armes
You can smell the fragrant wood smoke a block away as you approach El Asador Patagonia, an attractive rustic wood accented restaurant on Plaza de Armes. The interior continues the theme with wood accents, but it's the aroma of fresh wood charcoal and grilled meat that sets the mood. As a traditional parilla, the standard cuts of beef, poultry and lamb are available but less common cuts of steaks, especially prime cuts found only in high-end city restaurants, were on the menu. Not standard as well was the lack of meat sitting on the grill grate getting overcooked. They had a lamb brochette ready for diners, but otherwise all meat was cooked to order and a 25-minute wait time was clearly indicated. Also unusual among parillas was being asked how rare to well-done you wanted your meat cooked. Most Chileans and Argentines like their meat well done - too well done for my taste and for the texture of the meat.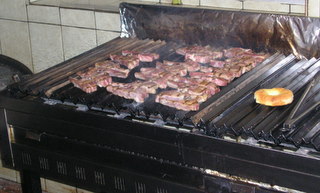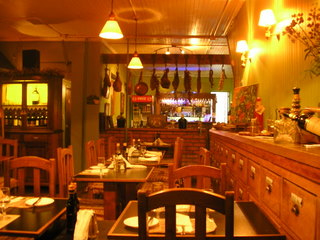 I had just been to Parque National Torres del Paine that day and had seen my first vicunas close up. These cousins to the llama are the venison of Patagonia - and breed as rapidly as deer in North America. When I saw vicuna steak on the menu, there was no question what I was ordering. My reference to venison is on the mark. Vicuna is a thick red meat that is not "melt-in-your-mouth" tender but with the full flavor of a meat not artificially fed and injected with who knows what. I asked for it medium and it came well caramelized on the outside with the center a nice deep pink. With just some salt and pepper, a nice mixed salad and warm rolls, El Asador Patagonia served this customer, who's always looking for something never tried before, a very satisfying meal.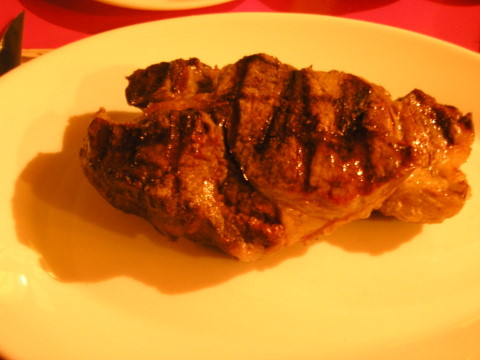 (vicuna steak)


There wine list was on the higher end with a range from CH$5,000 - $25,000 (US$9.00 - $44.00) with most in the middle of that range. Medalla Real Reserve Cabernet Sauvignon 2006 (Santa Rita, Chile) was CH$10,300 (US$18.00) of which I had a glass - CH$2575 (US$4.50) - it was deep, with the richness of earthy fruit.
My dinner, with the customary 10% tip, came to CH$11,500 US$20).





La Maritima, Eberhard, 2 blocks east of Plaza de Armes
By its very name, La Maritima's specialty is Chile's fish and seafood, and it has a prodigious menu of all the varieties to be found in the archipelago. Located in a too brightly lite but comfortable dining room, it is not the easiest restaurant to find. It has moved from its waterfront location and the guide books (2009) have its old address. But it's worth the hunt.
My first course was another variation on a cold mussel salad, but this one needed no extra seasoning. Mussels in Green Sauce is not the Basque version I imagined. (The Basque would have baked the mussels in lots of garlic, parsley and olive oil - simple, try it!) A platter of 14 large plump mussels where arranged on a white plate with a mound of minced onion and parsley on the side and thick wedges of fresh lemon. It could have been an entrée.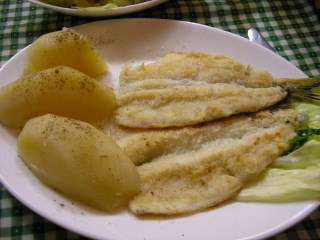 For the main course I ordered a fish I had not heard of before, grilled Aliumnia. Three large fillets arrived simply seasoned with salt, pepper and paprika along with three halves of perfectly boiled potatoes. A salad of lettuce with an entire sliced avacado rounded out the meal. It was simple, well cooked, satisfying and almost too much food - portions could have been reduced by one-third.
The wine list was on par with the other restaurants and so was the cost of my dinner, CH$13,500 (US$24.) Try to spend that little for the quality, and quantity, in a seafood restaurant in the United States.