Puerto Madryn
and
Peninsula Valdes
The first permanent European settlement in Patagonia
42°46'S. Lat. / 65°3'W. Long. Pop: 58,000 elev: 54'


On the 28 July 1865, 150 Welsh immigrants led by Sir Love Jones-Parry and Lewis Jones anchored the clipper Mimosa in a protected harbor and named the site Porth Madryn in honor of Jones-Perry's estate in Wales, "Madryn". These immigrants were the first permanent European settlers in the vast area known as Argentine Patagonia.
In the nineteenth and early twentieth centuries the Argentine government encouraged the immigration of Europeans to populate the country outside the Buenos Aires region. The idea of a Welsh colony in South America was put forward by Professor Michael Jones, a nationalist preacher who had called for a new "little Wales beyond Wales," since the policies of England did everything to discourage Celtic culture in Wales, Ireland and Scotland. Professor Jones spent some years in the United States, where he observed that Welsh immigrants assimilated too quickly and often lost much of their Welsh identity. He proposed setting up a Welsh-speaking colony away from the influence of Anglo culture. Patagonia was chosen for its isolation and the Argentine government's offer of 100 square miles of land along the Rio Chubut in northeastern Patagonia.
Puerto Madryn became the major outlet for the valley's agricultural products after the construction of the railway that connected with Trelew and the upper Chubut River towns. Today the Welsh-Argentine community numbers about 20,000 with approximately 5,000 fluent Welsh speakers. I personally know several.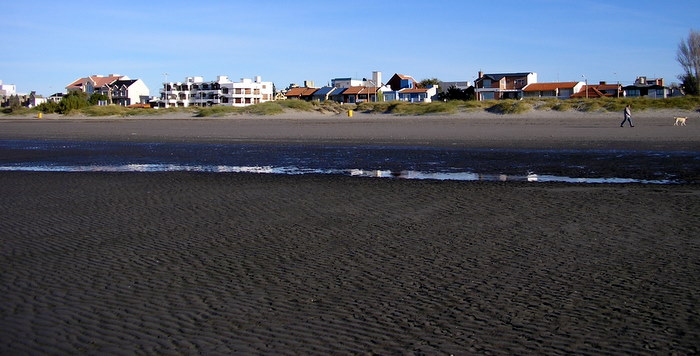 Puerto Madryn is a pleasant South Atlantic seaside town on the sheltered Golfo Nuevo. It has long beautiful wide beaches with summer homes and apartments that could be any beach town in North America. Even though it is a popular summer vacation spot, by the end of June their busy winter season begins. A winter season for a beach resort? Southern Right whales - thousands of them - make the Golfo Nuevo and Peninsula Valdes one of earth's great maternity wards from June through December.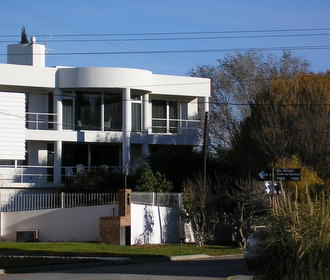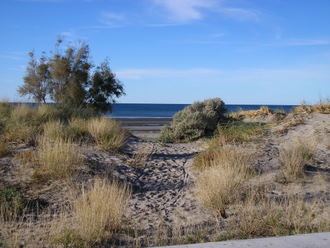 I encourage everyone to take an all-day guided excursion to the UNESCO World Biosphere Reserve of Peninsula Valdés. I chose a company recommended by the hostel. The cost was AR$165 (US$45) including admission to the Reserve.
Like most of Patagonia, Peninsula Valdés is dry, flat, and, even though a protected zone since 1935, consists of immense private sheep estancias. In return for maintaining private ownership, the estancias must follow strict environmental guidelines. The Southern Right whales were just starting to return, and we did see some very close to shore. They move with elegance, considering their size, as they troll for food and flip their tails out of the water either in play or they know they're providing photo ops.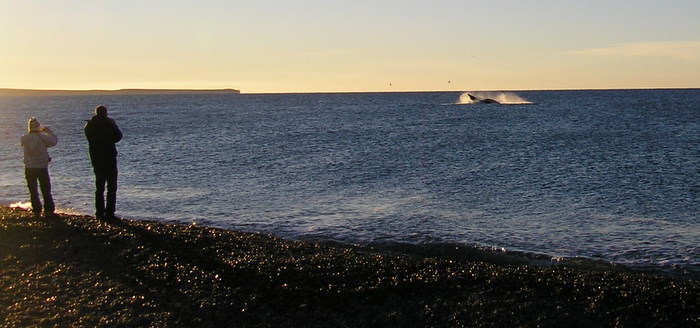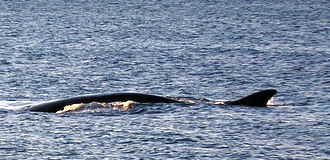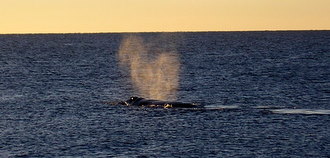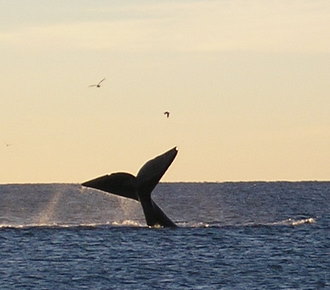 At the entrance to the Reserve is an excellent museum, the Centro de Interpretacion, detailing the abundant animal and sea life of the region. There is an observation tower that provides a panoramic view of the region including Gulfo Nuevo and Puerto Madryn.(Two-miles south of Puerto Madryn is another good marine museum, the Ecocentro. With the areas flat terrain, it's an easy walk or bike ride. Shuttles run to the Ecocentro from the tourist office on Avenida Roca - the towns main street.)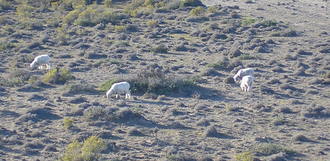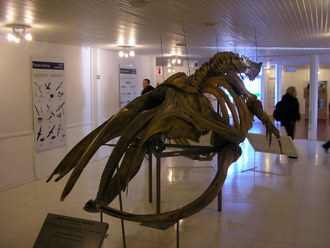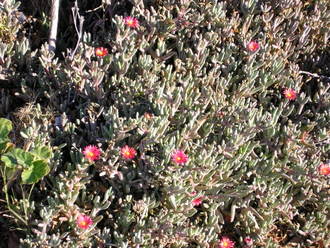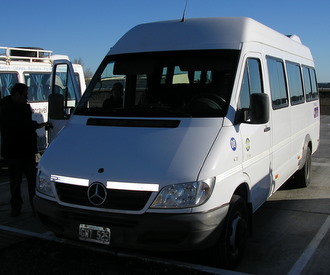 (excursion bus)


The north side of the peninsula is famous for its seal and sea lion colonies in residence during the Argentine summer (December through March) and for the daring Orcas, the largest member of the dolphin family. During March and April orcas ride the high tide directly onto the beach in order to capture and eat seals. For a traveler it's obviously impossible to time a single trip to observe both seasons.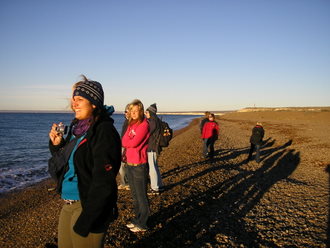 It is a 220 mile, 10-hour excursion around the entire peninsula with a three hour stop at the tiny village of Los Piramidas which is the center for whale boat tours and scuba diving. I didn't go on the boat, an extra AR$100 (US$27), because I've been on many off New England and Nova Scotia. Interestingly, there is no pier. All boats are launched from the beach by a tractor hauling the loaded boat on a special harness.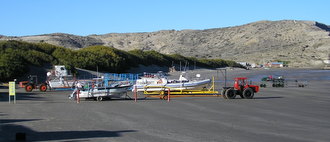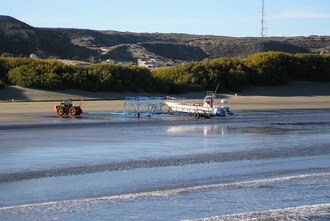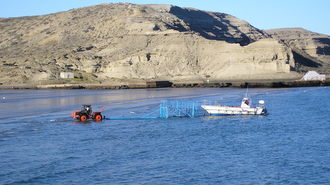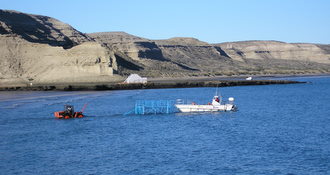 Los Piramidas bustles during the winter season with both the whale watch excursions and kayaking in the Golfo Nuevo for those that want to really get close to the whales. Bike rentals are available for quiet, leisurely explorations of the Reserve. There are several small hotels. I walked around the tiny village, had an unremarkable paella for lunch at the beach front Restaurant Quimey Quipan and played Frisbee with two very friendly golden retrievers on the beach. (I found a large plastic lid that served as the Frisbee. They were tireless. We played for nearly an hour before I got tired!)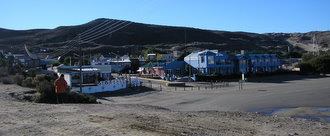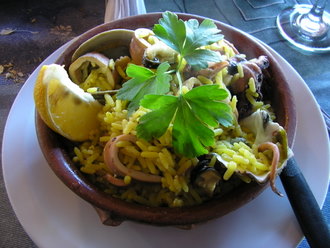 (Los Piramidas)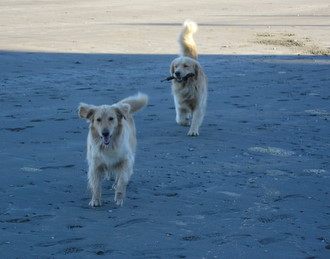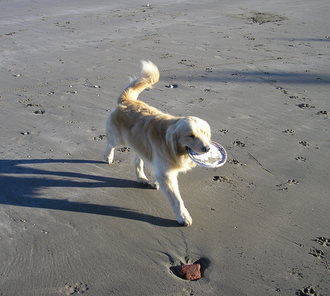 (my Frisbee friends)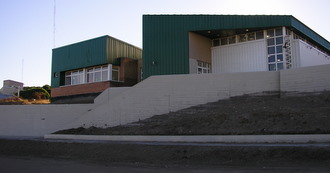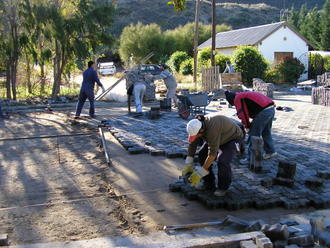 (Los Piramidas: paving the one main street and new public school)

In Puerto Madryn half the restaurants serve fish and seafood, yet only frozen fish and seafood can be found in the two large supermarkets, and I could not find a single seafood market. (I bought a ½ pound of frozen langouste (shrimp) that I cooked at the hostel in butter and garlic and served over pasta. AR$24 (US$6.50)
At Restaurant El Nautico, Avenida Roca 790, I did have nice calamari escabache and Marluza, a white fish, topped with a blue cheese sauce accompanied by a boiled potato and fruit salad. AR$30 ($8.00. You may think that a sauce with blue cheese would overpower a delicate white fish, but in Argentina it's a mild blue cheese that adds another layer of flavor to an otherwise bland filet. The dish had a nice, rich mouth feel and the boiled potatoes were a perfect foil for the remainder of the sauce. (Argentines love mild blue cheese which they turn into a cream sauce to top everything from a hot ham sandwich to fish and grilled meats!) Don't get put off by the photo plastered walls, the less then personable wait staff or the nautical themed kitsch. For the price, El Nautico is a fine choice for basic seafood.
The guide books, as usual, listed three must go restaurants and the top one seems to still exist but no one knows where it is - it's not at the advertised address either on line or in the books. Of the two other restaurants: one went out of business and the other was closed for vacation.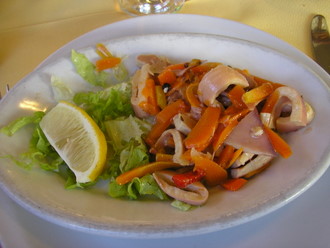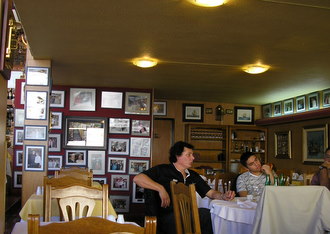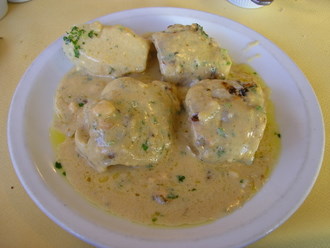 The Hostel El Returno,Calle Mitre 798, was a good choice for accommodations. It had the feel of a B & B, included breakfast and had a spacious kitchen. My well appointed private room with bath was AR$130 ($35.00) which is at the upper end for a hostel, but it's centrally located, immaculately clean with an exceptionally friendly and helpful bi-lingual staff, and Puerto Madryn is a beach resort. Dorm bed rates are exceptionally reasonable at AR$35 ($9.50).
Of course, there are a variety of accommodations available from several other hostels to luxury resorts and apartment rentals with rates from AR$120 to $750 (US$32.00 to $200.00) with most in the middle of that range.
Puerto Madryn is small but with a good tourist infrastructure and an excellent beach. It would be an enjoyable summer spot, and certainly for winter whale watching, even if you don't want to see orcas eat seals.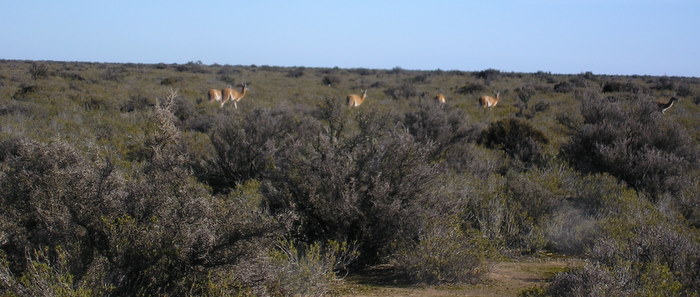 (guanaco on Peninsula Valdes)





You can locate Puerto Madryn by vieing a map of Chubut province at: maps of Argentine provinces