Chacra Don Neno
Los Antiguos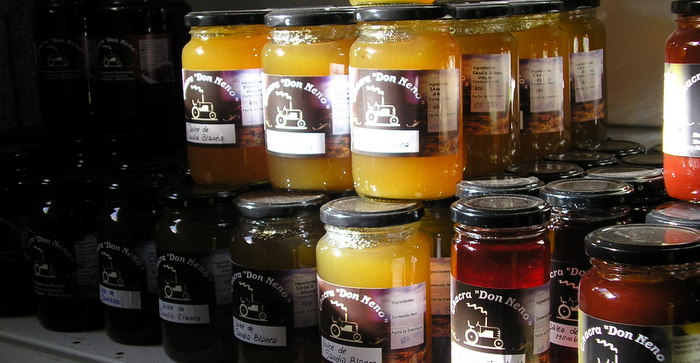 Dona Malu Cienfuegos met me as I walked into her garden. She was not expecting me. She simply saw me from the glass wall of her kitchen where she was jarring one of her many creations from the fruits and vegetables she and her husband, Walter Treffinger, grow on their 15 acre farm.
I already knew that Chacra Don Neno was one of the few Los Antiguos farms that remained open all year for customers to purchase products. Naturally, seeing that in the first month of Autumn so much of Los Anteguos was closed for the season, I assumed Don Neno would be a real tourist store.
Assumptions are made to be broken. Dona Malu's store is a small structure stocked full of several dozen varieties of chutneys, jams, conserves, escabeches, honey and liquors. Many are old family recipes. Everything, down to the herbs that flavor these incredible creations, is grown on the farm.
After setting aside seven items, I gave Dona Malu my card and explained my mission. She immediately beckoned me out of the shop to her fields. With as much English as I know Spanish, we communicated on a food level just fine.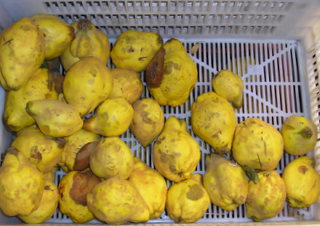 (fresh quince)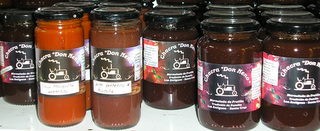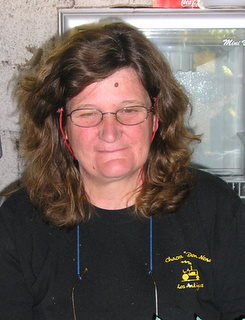 (Dona Malu Cienfuegos de Treffinger, 5th generation, Chacra Don Neno


My first question was about pesticides. "Ciertamente no!" was her strong response. Pesticides, fungicides and non-organic fertilizers are unnecessary and rarely used by any Argentine farmer. Pests, if they exist, are taken care of by the insects that pry on them. Animals provide fertilizers and fungus is rare in these mountain microclimates.
Water for the fields come from the Rio Mayo that's fed from the glacier water of Lago Buenos Aires through an age-old system of irrigation canals. Organic is a word used for tourist; Argentine's accept it as the norm.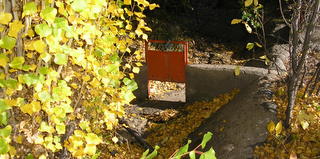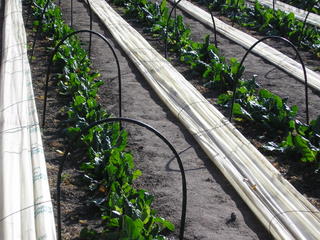 (irrigation system based on ancient Andean technology)


In garden-like arrangements, Dona Malu showed me orchards of apple, cherry, apricot, figs, raspberries, strawberries and Andean varieties that are cousins of these soft berries. There were quince, grapes, Andean melons, sweet & hot peppers, almond and hazelnut trees. A rose garden for rose hips and plots for rosemary, lavender, basil, wormwood (the herb basic to vermouth), oregano, thyme and edible flowers ringed the buildings. Then there were rows for several varieties of tomatoes, spinach, eggplant, onions, garlic, asparagus, anis, horseradish and fava beans. All these were protected from any harsh winter winds by towering alumia trees, cousins to the poplar.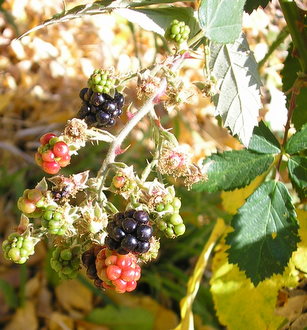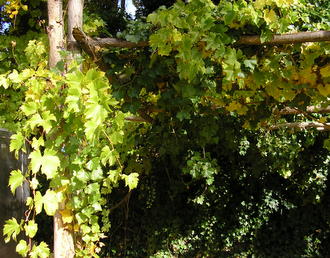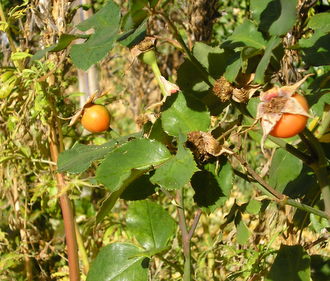 Dona Malu cooks and jars her creations in a small, pristine kitchen with state-of-the-art equipment and showed me a new, larger kitchen facility under construction.
The items I purchased: (1) Escabache of Mushrooms with onions, tomato, garlic, herbs, oil and vinegar, (2) olive spread, (3) preserved cherries, (4) Dona Malu's Grandfather's cherry liquor, (5) calefate berries in gin, (6) mixed berry preserves and (7) plumb jam. The total cost was AR$100 (US$27.00).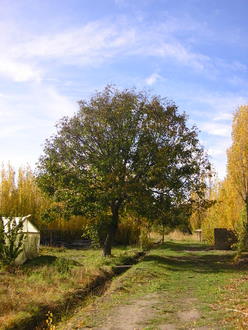 (Almond tree and surrounding protective Alumia trees)