Attractions in Rosario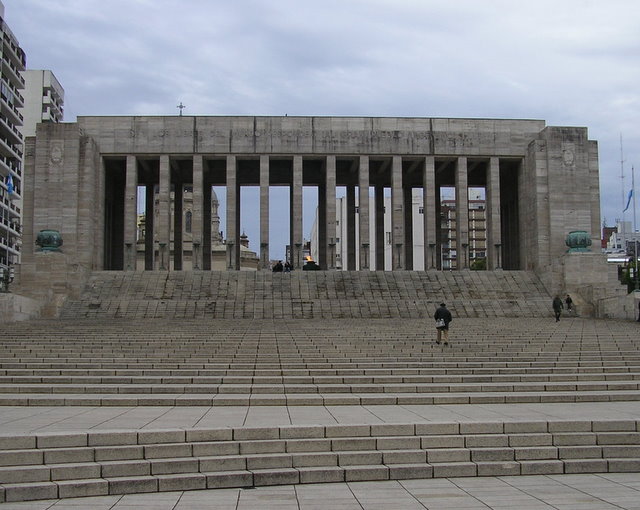 Monumento Nacional de Bandara
The Monumento Nacional de Bandara is fascinating beyond it being a memorial to the Argentine national flag. It was constructed in 1943 at the successful start of Juan Peron's Mussolini-inspired 13-year government in Argentina. The gargantuan colonnaded stone plaza and tower, directly in front of the modest Plaza San Martin, is a dramatically lit cathedral to nationalism in the nationalistic art-deco style popular in Germany and Italy in the 1930's.
The Monumento Nacional de Bandara is impressive - Peron knew what he was doing - and it is dramatic, especially at night with its massive eternal flame to Argentine freedom. (Ironic being constructed at the beginning of 40 years of chaotic government).
In contrast to the exterior, the small chapel-like interior chamber that houses a memorial to the flag's designer, General Belgrano, is reverential yet simple.
Manuel José Joaquín del Corazón de Jesús Belgrano, (1770-1820) was the second generation of a successful Italian-Argentine Porteno merchant family. His European university education during the Enlightenment ferment of the French Revolution influenced his later leadership in the May Revolution of 1810 and the War for Independence against Spain. He designed the Standard while in command of an army stationed in Rosario in 1812 and used it in battle. The Congress of Tucuman declared it The National Flag of Argentina in 1816.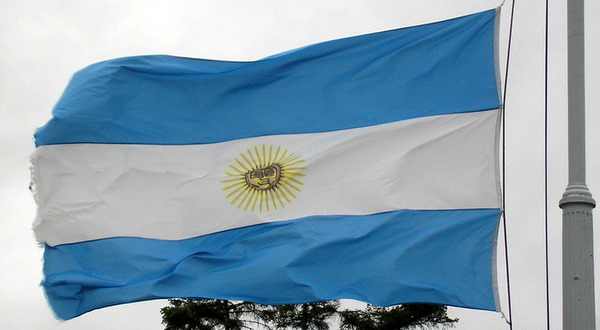 It is a triband, composed of three equally wide horizontal bands colored light blue, white and light blue. The top band is the sky, the middle the land and the bottom blue the sea. In 1818, a yellow Sun of May was added to the center. This symbol was first used on an 1810 Buenos Aires coin and is modeled after the symbol of Inti, the Incan god of the Sun.
During the Congress of Tucuman, General Belgano was said to be a champion of Argentina becoming a constitutional monarchy restoring the Inca royal family.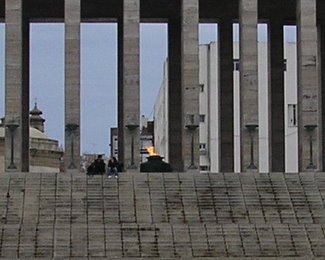 (24-hour flame)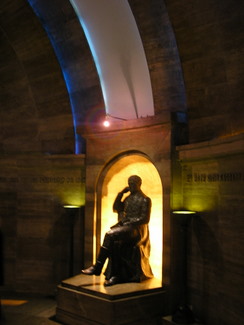 La Costanera,
The Monumento Nacional de Bandara is at the south end of La Costanera, a 12-mile landscaped river walk. In front is the Estacion Fluvial, docks for yachts and the summer ferries to several Delta islands. To the north, along La Costanera are cafes, playgrounds, museums, picnic, fishing areas, art and great views.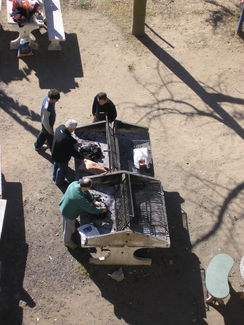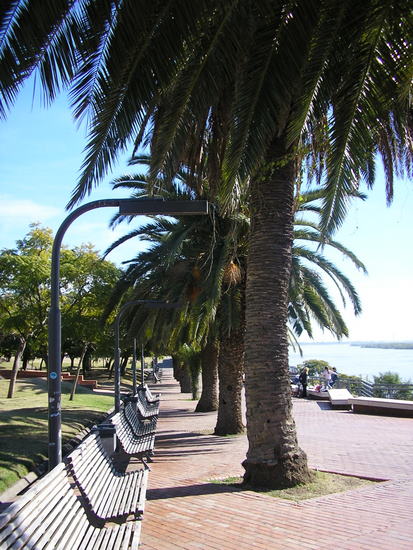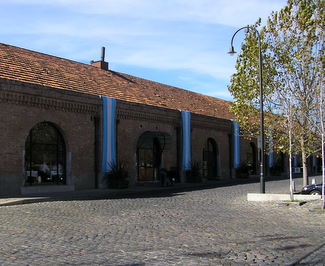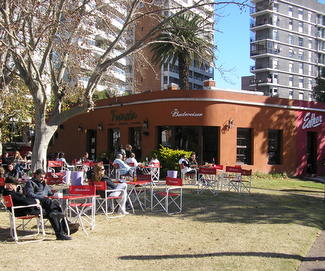 Museo Decorativo Estevez, Plaza 25 de Mayo
On Rosario's modest Plaza 25 de Mayo, with the cathedral in front of the impressive view of the Monumento Nacional de Bandara, is the mansion of a 19th century captain of industry Odilo Estevez. Like so many of the New World's wealthy, he and his wife collected an eclectic mix of painting, sculpture and object de arte and displayed them in their Spanish colonial townhouse at Rosario's most prominent address. It is an interesting diversion into a bygone era when collecting in itself was an art.
No interior photos allowed. Open 3:00-8:00 PM Thursday-Sunday.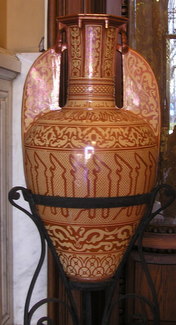 Museo Castignano, Boulevard Orono and Pelligrini
My week long July stay in Rosario coincided with the height of the 2009 swine flu outbreak. For several weeks, most museums in major cities were closed as a precautionary measure limiting large concentrations of public. But some private museums that rent corporate sponsored exhibit space could remain open.
This was the case with the AR$20 (US$5.25) admission/fund raising to a corporate sponsored installation of art at the private Museo Castignano. The exhibit consisted of two engaging avant-garde installations and four rooms one would expect to see in a design showroom. The sponsoring design company's literature was available.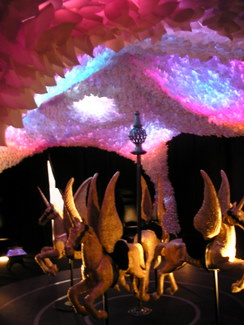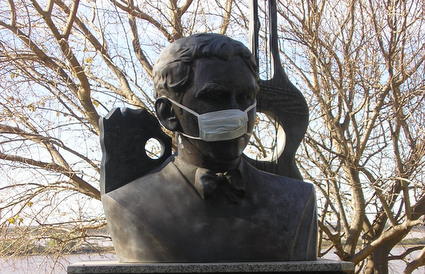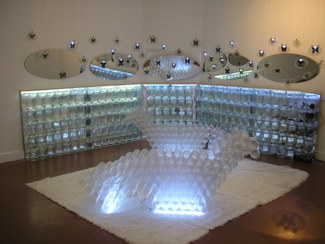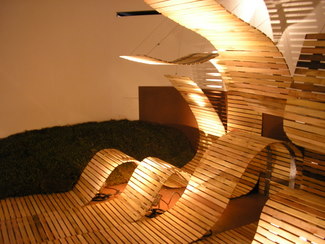 Museo de Arts Contemporaneo de Rosario (MACRo)
Along the Costanera, north of Boulevard Oreno and the old Rosario train station, is a large early 20th century grain elevator when Rosario was the agricultural export center for the northern Pampas. Currently, the pastel multi-colored structure is the dramatic Museo de Arts Contemporaneo de Rosario (MACRo), the modern art museum. The building alone is an excellent example of adaptive reuse, and the exhibits of Argentine modern art are beautifully set off by the attractive interior.
On the river front courtyard is a new glass walled café serving very good light fare.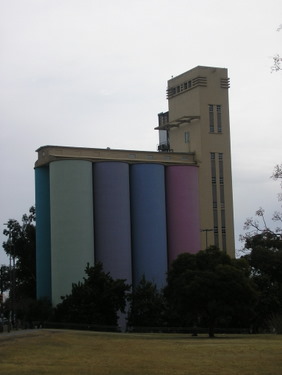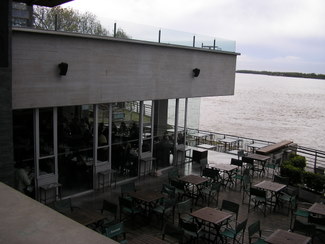 Parque Independencia, Calle Pelligrini
Rosario's main city park, Parque Independencia, is a large, lovely space with formal gardens, a small children's amusement park, sports fields and a beautiful lagoon complete with multi-colored pedal boats for rent. An attractive café sits on the edge of the lagoon.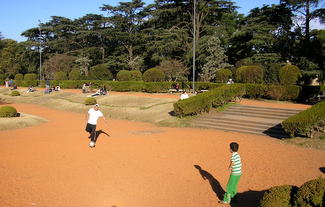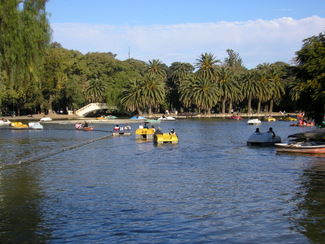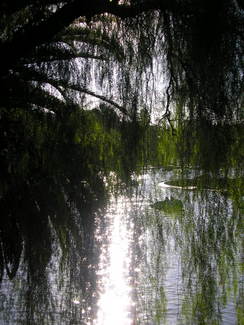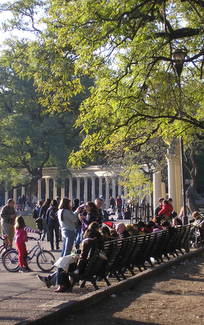 Agro Urbana Social de Verdura Natural, Rosario
Started in 2002, Agro Urbana Social de Verdura Natural, Rosario's urban farming project has become an international model of adaptive agricultural use for vacant city land. It is a city/university/community partnership which identifies unused land not suitable for construction. It may be near a highway, abandoned railway, unused municipal lots, sections of parks or recreation areas. Interested individuals, families and community cooperatives, in economic distress, may petition the program for the right to farm the land and are given technical assistance. Agro Urbana operates several farm markets where growers sell their produce, jams and preserved vegetables - even natural cosmetics. Today more than 800 gardens provide food and extra income to thousands of Rosario residents.
An AR$140,000 (CDN$35,000) grant from Canada's Urban Poverty and Environment International Development Research Centre recognized Rosario's Agro Urbana Social de Verdura Natural as being in the forefront of cities in the promotion of urban agriculture. Agro Urbana has an unasumming building and modest display of its work on the Costanara.