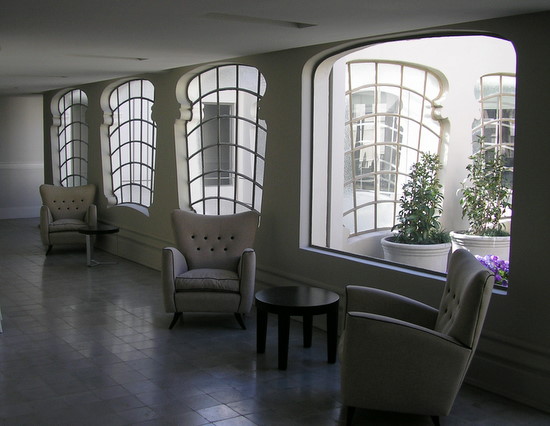 (sun room lounge Hotel Savoy)



Highly Recommended:
Hotel Esplendor Savoy Rosario Calle San Lorenzo 1022 & San Martin

Built in 1910, the Hotel Savoy has served guest for nearly 100 years - even when it became a lowly boarding house during Rosario's post-war decline. Yet even as a boarding house, the original art nouveau marble staircase, silvered chandeliers, wall sconces, intricately carved moldings and domed roof top tower were preserved in their natural state. After a multi-year restoration by a private Argentine hotel group, the Hotel Esplendor Savoy reopened in 2009.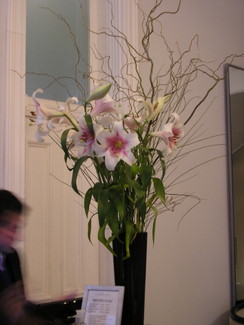 The lobby and halls retain their art nouveau features yet the furnishings and original art are modern with both styles blending harmoniously to provide an elegant but relaxed atmosphere.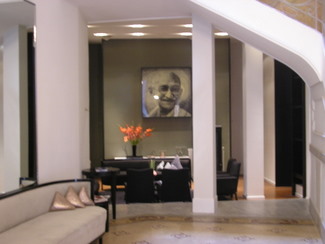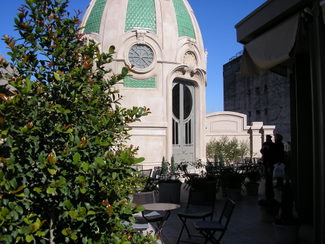 On the fourth floor is the spacious breakfast room that opens onto the roof top garden. An excellent breakfast buffet is included in the room rate with eggs, bacon, sausage, potatoes, a variety of breads, jams, yogurt, fresh fruits and fruit salad, juices, coffee, tea and a large variety of pastries. Newspapers in both Spanish and English are available as well as kosher and gluten-free baked products! Breakfast comes from the kitchen of the Grand Café Savoy.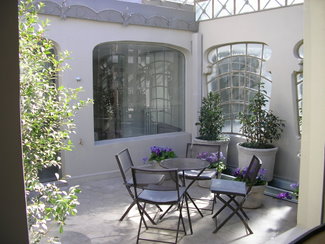 The rooms are modern. The old hard-wood floors have been refinished and are gleaming. Excellent mattresses and linen provide luxury sleeping. Ultra modern furniture, mini-bar, light fixtures and totally new bathrooms complete the high standards the hotel has set for itself. In the basement is a gym and a lap pool, complete with bottles of water and plush towels.
Service was impeccable. Since the renovations had been completed only a few months before, I discovered a couple minor problems in the room. A call to the front desk had the maintenance staff knocking almost before I could put the phone down.
The Hotel is centrally located just a short walk from the shopping district, museums and the Costenera.
Three weeks before our July 2009 stay, the Grand Cafe Savoy opened displaying culinary standards equal to the hotel.